College student excels at cricket but has played 17 sports.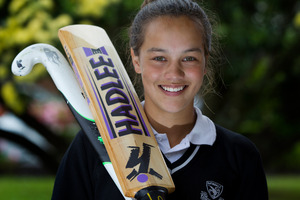 Natasha van Tilburg gives new meaning to the term sporting allrounder. In her time at Glen Eden Intermediate she played 17 different sports and was named the Year 8 sportsgirl of the year.
Van Tilburg, a Year 10 Avondale College student, has made her mark in several sports, with cricket her real success story.
"I have tried heaps of sports," said the smiling 14-year-old, who has been in the Avondale College Sports Academy since arriving at the school.
"I guess I was always interested in sport and my dad has supported me in all I have done.
"He got me into netball and I also play soccer and hockey in the winter and cricket in the summer."
She captained the school's 1st cricket X1 this summer, showing out as a more than useful performer whether batting, bowling or even keeping wickets in guiding her team to the semifinals of the girls' schools' competition where, without the team's other star player, they lost to St Kentigern.
In the school's competition van Tilburg bagged 11 wickets at an average of 11 and scored 295 runs - at an average of 295 and being dismissed only once.
Already a member of the Auckland under-18 cricket team, she will again travel to Australia in January. She has also been selected in the New Zealand under-16 indoor cricket team.
Despite her hectic schedule, she says she does okay scholastically.
"I have been getting pretty good grades even though sport takes up a fair amount of my time. My four main sports are soccer, netball, cricket and hockey."
She captained the Year 10 netball team as well as the 1st cricket X1 and plays in Avondale's premier soccer and hockey teams.
If balancing her sports is a challenge, she certainly does not show it. The week before she heads to Australia she will play in the national under-15 cricket tournament for the third time after first being selected as an 11-year-old.
Playing for Eden Roskill's premier reserve grade team last season, she scored 124 as one of three centuries in three weeks.
With the ball, as a leg-spinner, she boasts a best of 3-1 off four overs.
She "love the outdoors" and is looking forward to a camping trip to Ohope before resuming her sporting schedule.
And, as a rising cricket start, Natasha admits, "I like talking. All the time." More often than not, though, it is her bat or ball, hockey stick, soccer boots or netball shoes doing the talking.
COLLEGE SPORT RESULTS
ATHLETICS
DUAL FINALS
(AUT Millennium Stadium)
Boys: WBHS 82 Rosmini 71. 3rd-4th, Pinehurst 78 Kristin 35. 5th-6th, Orewa 72 Rangitoto 25.
Girls: Carmel 136 Orewa 130, Rangitoto 64. 4th-5th, Pinehurst 78 Kristin 50.

RUGBY
BNZ CONDOR 7S
(Kelston BHS)
Boys.-
Cup, quarter-finals, AGS 19 Hamilton BHS 14, Nelson College 26 Rotorua BHS 14, MAGS 24 PNBHS 17, KBHS 24 Scot's College 19 (after extra time). Semifinals, MAGS 19 AGS 14, KBHS 21 Nelson College 19. Final, KBHS 35 MAGS 10.
Plate, semifinals, PNBHS 26 Hamilton BHS 19, Rotorua BHS 26 Scot's 17. Final, PNBHS 14 Rotorua BHS 12.
Bowl, quarter-finals, Napier BHS 26 Francis Douglas Memorial College 7, Wesley College 43 Southland BHS 7, Otago BHS 22 Westlake BHS 5, Christchurch BHS 19 Whangarei BHS 7. Semifinals, Napier BHS 33 Wesley 14, Otago BHS 21 Christchurch BHS 19. Final, Napier BHS 18 Otago BHS 5.
Shield, semifinals, Francis Douglas 24 Southland BHS 5, WBHS 24 Whangarei BHS 19. Final, WBHS 17 Francis Douglas 12.

Girls.-
Cup, quarter-finals, Mahurangi College 26 South Otago HS 17, Southland GHS 20 Tamaki College 0, Hamilton GHS 36 Napier GHS 15, Feilding HS 26 EGGS 0. Semifinals, Mahurangi 24 Southland GHS 17,
Feilding HS 20 Hamilton GHS 7. Final, Feilding HS 27 Mahurangi 12.
Plate, semifinals, Tamaki College 22 South Otago HS 0, EGGS 31 Napier GHS 0. Final, EGGS 20 Tamaki 7.
Bowl, quarter-finals, AGGS 21 Rotorua GHS 5, Wainuiomata HS 17 Lincoln HS 10, Onehunga HS 30 Nayland College 0, Kaitaia College beat James Cook HS by default. Semifinals, Wainuiomata 29 AGGS 5, Onehunga 24 Kaitaia 17. Final, Wainuiomata 19 Onehunga 7.
Shield, semifinals, Lincoln 17 Rotorua GHS 10 James Cook HS 28 Nayland 0. Final, James Cook HS 12 Lincoln 10.

WATER POLO
Junior.-
Boys.-
A grade, final placings, Sacred Heart 1, Rangitoto College 2, AGS 3.
Central/East semifinals: MAGS 9 Sacred Heart 5.
B grade, North/West pool I: Western Springs 7 WBHS 2; Green Bay 5 Long Bay 4. Final placings, Western Springs 1, WBHS 2, Green Bay 3.
C grade, semifinals: MRGS 6 Waitakere 5; Sacred Heart Blue 9 Strathallan 2. Final placings, MRGS 1, Waitakere 2, Sacred Heart 3.
Girls.-
A grade, final placings, Rangitoto 1, WGHS 2, St Cuthberts 3.