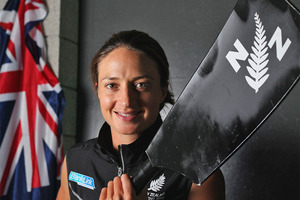 Olympic bronze medallist and triple world champion Juliette Haigh and veteran oarsman Matthew Trott have retired from rowing.
Their efforts were acknowledged last night at a tribute dinner to celebrate the most successful year in Rowing New Zealand's history, with three gold and two bronze medals at the London Olympics.
Haigh (30) debuted in the elite squad at the 2004 'Regatta of Death' in Lucerne, where she and Nicky Coles qualified the women's pair for the Athens Olympics. She has been to two more Games and every world championships except 2009, when she was on sabbatical.
She won three world championships - with Coles (2005) and with Rebecca Scown (2010, 2011).
Haigh had time to consider her future after earning New Zealand's first Olympic bronze in the women's pair since 1988. She suffered acute tendinitis three weeks before the Games.
Haigh never advertised the injury, conscious it could be deemed an excuse.
The injury stymied their build-up but Haigh's no stranger to such adversity.
Moving a seat and wielding an oar for hours on end necessitated carpal tunnel surgery and she suffered a prolapsed disc last year which almost forced her to cease playing Mozart. Fortunately she managed, standing at her beloved keyboard Stevie Wonder-style.
Haigh embarked on a post- Olympic journey to France, the US and Argentina. She also did a fortnight's volunteer work for the Kitengo Children's Charity slum project in Kenya.
She formulated her rowing exit as she sorted rice, chopped vegetables, marked homework and sang The Wheels On The Bus countless times to a captive audience of 3 to 7-year-olds.
"I've been rowing for the best part of 15 years since my days at Takapuna Grammar," Haigh says. "I was inspired to be an Olympian when the likes of Barbara Kendall, Rob Waddell and Sarah Ulmer came to our school and that made my ambition seem achievable. Then, at 18, I joined West End Rowing Club and they've been my second family since.
"I had some talent but lacked confidence and the likes of [former New Zealand rower] John White pushed-maybe I should say shoved - me on. John rang Nicky [Coles], specifically against my wishes, and asked if she'd consider rowing with me," Haigh laughs.
"The rest is history. Once in the New Zealand team, the likes of Nicky and Sonia [Waddell] offered me amazing support andImodelled mywork ethic on Georgina [Earl] and Caroline [Meyer]."
Haigh can pinpoint the turning point in her career.
"At the final Olympic qualifying regatta in Lucerne, I decided it was time to stop talking about potential and start talking about performing. We were third at the 1000m mark and needed to finish second. We powered through.Iwas in absolute shock.
"With the 2004 Olympics behind me [Haigh and Coles finished sixth in the final after famously catching a crab and tipping out of their boat in the heat], I suddenly didn't feel petrified by the fear of failure. We were racing to win."
On return from sabbatical in 2009, Haigh and partner Mahe Drysdale bought a 6.5ha property near Lake Karapiro where she wants to spend more time.
"I still love the sport and want to give something back but I can't see myself doing another campaign."
Trott's CV might not match his contemporaries for medals but he is a renowned team man.
The 32-year-old was a reserve in the 2006 elite ranks before joining Nathan Cohen in the double sculls in 2007. He was replaced by Rob Waddell for the 2008 Olympics.
Trott finished in fourth place, his best world championships result, with Cohen in 2009 after winning the Henley Royal Regatta.
He has raced the quadruple sculls since 2010 and competed at the London Olympics while battling two degenerative discs and two bulging discs in his back.
Trott's thrilled he fulfilled his Olympic dream. He starts as a rural banking manager at Morrinsville in February.
"I spent seven years in the elite squad and it was fantastic to get a crack at the Olympics. Yet I just about didn't make it with a back injury. Four weeks before the Games was the lowest point in my career. I could barely walk 100m, let alone row.
"I loved going overseas and being given every opportunity to do my best for New Zealand with the support of great accommodation, nutrition, physiotherapy and psychology."