Trainer Lance Noble cut a dashing figure on the dance floor thanks to Viadana.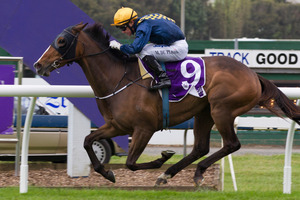 After several years of intense pain the Matamata trainer was looking for a massive level of relief.
It wasn't until he went dancing on Saturday night after a magical winning double at Ellerslie during the day that he became aware that had been achieved.
Noble was for a change able to indulge in his success rather than painkillers after Viadana tore apart the $70,000 Eagle Technology Stakes and 35 minutes later Brave Centaur was invincible in the Dunstan Feeds Championship Qualifier.
This time the painkillers came out of large brown bottles, the type that don't carry warnings on over-indulgence.
"I don't know whether or not it was the artificial help, but the hip didn't stop me dancing last night," said Noble yesterday.
"It's the head, rather than the hip that hurts today."
But Noble will put up with any level of that after having to wait two years for the now 5-year-old Viadana to strengthen and mature.
"I always knew she was good, but she was weak for a long time.
"When she came back in this time she was much more mature and her runs leading into this win were all good without a lot of luck.
"You never like to get confident, particularly in a race like this, but we were pretty chipper going into this race with a good barrier draw."
Like many before him, Noble learned his trade under one of the best horsemen this country has produced, Jim Gibbs.
He trained in partnership with Gibbs for a number of seasons before branching out on his own. When Gibbs retired Noble inherited a number of his stable's owners, including some of the members of the large syndicate which own Viadana.
"When I first joined Gibbsy, John and Thelma Glasgow from Rotorua were among of his owners and so were Alvin and Lyn Goodall.
"All four are in this horse."
Even against a strong line-up, including Undisclosed, Shuka and Alegrio, Viadana was sent out favourite and closed the race off brilliantly.
"It was impressive because the handicap was compressed by the special conditions of the event and in a normal handicap she would be getting more weight off some of those favoured runner," said Noble.
Viadana's maturity could not be more timely - Noble knows the $30,000 purchase is going to be extremely competitive in the big-money metric miles over the December-January period.
There might also be a nice race for Brave Centaur who, under 59kg, never looked likely to relinquish his home straight lead under Opie Bosson.
"This horse was never quite right last season and we couldn't quite work out why, possibly because he wasn't fully mature.
"This season, he's much better."
This time of year everyone is looking for the emerging horses and we saw plenty of them on Saturday.
Habibi, Impel, Future King and Polyantha, along with Viadana can be followed through the middle of summer. Polyantha was particularly impressive with her late finishing burst.
Keeping in step
*Talented Matamata trainer Lance Noble is not long away from the surgeon's knife.
*The hip replacement got its first real workout on the dance floor on Saturday night.
*Wins by Viadana and Brave Centaur were reasons for a knees-up.