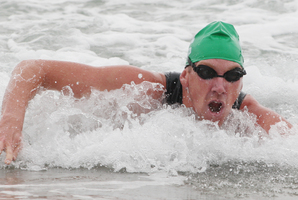 Australian Trent Grimsey has stormed to victory in today's State Harbour Crossing, continuing his blistering form in the series.
Grimsey, 24, finished the 2.9km Auckland swim from Bayswater to the Viaduct Harbour in 35:09, and was more than a minute ahead of fellow Australian and double Olympian Ky Hurst, who finished second.
Grimsey's win follows an equally dominant performance when he won the State Paihia Classic three weeks ago.
Conditions were challenging for all of the 1500 swimmers today, with winds of up to 30 knots making the water extremely choppy.
"This was probably as tough as any race I've done in terms of the conditions," Grimsey said. "It is a lot harder to swim in the chop than in flat water, but I think it affected my competitors a bit more than me; I don't mind it when it's like this."
Grimsey's brother Codie, 22, who won the 2010 Harbour Crossing, finished third just ahead of South African Troy Prinsloo.
The 27-year-old from Durban, who finished 12th at this year's London Olympics in the 10km open water swim, found the going tough.
"Today was quite physical and I didn't really enjoy that," Prinsloo said. "I suppose if I want to carry on with open water, I've got to get used to it."
The women's race was won by defending champion Cara Baker, 22, but only after an error from her main rival, Charlotte Webby.
The 24-year-old from New Plymouth led Baker for most of the race only to swim to make a navigational error 200m from the finish. She swam to the left of a marker buoy when should have swum to the right of it. That allowed Baker to defend her win from last year.
"It was really unfortunate for her; maybe it was my good fortune to go on the right side," Baker said. "I was certainly surprised to see the tape out for me not her, when I got out of the water.
Webby said: "It was my mistake; I was really hoping for a win against her. Cara's an awesome swimmer. Maybe next time, hopefully next time."
The State Harbour Crossing was round two of this season's six race series.
The last four races in the series are held in the New Year, in Wellington, Akaroa, Mount Maunganui and Takapuna.
RESULTS
Men:
1. Trent Grimsey (AUS) 35:09
2. Ky Hurst (AUS) 36:15 +1:06
3. Codie Grimsey (AUS) 36:24 +1:15
4. Troy Prinsloo (RSA) 36:31 +1:22
5. Phillip Ryan (NZL) 38:54 +3:45
Women:
1. Cara Baker (NZL) 39:56
2. Charlotte Webby (NZL) 40:11 +0:15
3. Kirsty Wannan (NZL) 41:56 +2:00
4.Natalie Woodgate (NZL) 44:51 +4:55
- APNZ