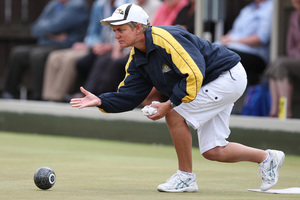 Reigning women's singles gold medallist Val Smith created a small piece of international bowls history as pool play reached the halfway point at the Bowls World Championships in Adelaide today.
Pitted against Norfolk Island's Debbie Wilford, the world's ninth-ranked singles player, Smith unleashed a scoring spree unlike anything ever witnessed on the international stage.
Smith's 21-1 victory at Holdfast Bay took just nine ends - the fewest ever required to complete an international singles encounter. The Nelson bowler led 8-0 after four ends then conceded a single to Wilford, before storming home with scores of three, four, two and four to bring the rout to a halt.
"Debbie would be gutted," Smith said. "I know how she feels - Karen Murphy beat me 21-0 in my international debut at Burnside during the 2007 Asia-Pacific Championships, but the match lasted longer than nine ends."
What Smith neglected to mention was how she eventually qualified for the final that year, where she met and defeated Murphy 21-16 in the gold medal playoff.
The men's triples combination of Ali Forsyth, Matt Gallop and Tony Grantham were similarly rampant in today's match against Namibia, remaining unbeaten after eight days of the tournament. After being tied at three shots apiece after three ends the Black Jacks accumulated 20 shots while allowing just two over the ensuing nine, completing the win with counts of four and three to a Namibian single.
Elsewhere, Richard Girvan and Shannon McIlroy returned to the winner's list in the men's pairs competition after successive losses to Wales and Jersey, while the women's fours side of Jo Edwards, Mandy Boyd, Jan Khan and Lisa White stumbled to their first loss against the much-improved Philippines after recording two strong wins over Brunei and Israel.
Results to round six of the World Bowls Championships in Adelaide today:
Women's singles, Val Smith: Round 4, lost to R Gilor (Israel) 21-16; Round 5, def S Tsao (Thailand) 21-17; Round 6, def D Wilford (Norfolk Island) 21-1.
Women's fours, Jo Edwards, Mandy Boyd, Jan Khan, Lisa White: Round 4, def Brunei 25-13; Round 5, def Israel 19-12; Round 6, lost to Philippines 21-14.
Men's pairs, Richard Girvan, Shannon McIlroy: Round 4, lost to Wales 24-10; Round 5, lost to Jersey 21-18; Round 6, def United States 20-6.
Men's triples, Ali Forsyth, Matt Gallop, Tony Grantham: Round 4, drew with Brunei 15-15; Round 5, def Brazil 25-6; Round 6, def Namibia 30-6.
- APNZ