Kiwi Olympian wants to fulfil his potential after years of self-doubt during his career as a professional cyclist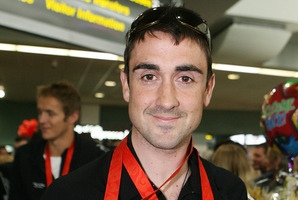 Hayden Roulston, an Olympic silver medallist and professional cyclist for 10 years, has revealed he has been hampered by self-doubt during his career and says only now is he ready to step up and fulfil his potential.
The New Zealander's most notable achievement came when finishing second to Bradley Wiggins in the individual pursuit on the track at the 2008 Beijing Olympics.
He switched his focus to the road after that success in China - much like Wiggins - and has figured prominently in the world's biggest races. He finished third in a stage of the 2009 Tour de France and has often featured at the front of one of the hardest one-day classics races, the Paris-Roubaix - a gruelling 260km slog which includes 80km of cobbles.
But Roulston says he has often suffered from self-doubt on the biggest stage and recently had an epiphany - at 31 years old it's time to see what he can really do on a bike. With that in mind, he got on his road machine in Christchurch last week for the first time in more than a fortnight to begin training for what he hopes will be a breakthrough 2013 season.
"It's only really the last three or four months where I've said, 'enough is enough'. I've been going with the flow a little bit too long and now I actually want it," he says.
"It's probably hard for people to understand. It's not that I haven't wanted it, it's just that I've been content. But now I actually want to see what my body is capable of.
"Mentally now I'm ready for the limelight, I guess you could say. It's one thing to win, but to win and get all this attention around you, that's another thing as well. I think I'm ready on a whole number of levels."
Asked what has prompted his mental kickstart, he replies: "I'm 31 now, I'm pretty settled. What I've struggled with my whole career is balance. Cycling itself isn't the hardest thing for me, it's fitting it into my life and finding time for things I don't really call my passion.
"Now I've come to a point where everything is balancing out. I've got my son and have great access to him, a lot of things are falling into place, and I can honestly say I'm in a great space and I'm ready to take the next step."
The race against Wiggins four years ago was significant - then and now. Roulston said he was physically ready to perform well at the Laoshan Velodrome, but elsewhere he was lacking. "It was a gold medal, I'm riding against Wiggins, he's done it before ... I had all these things going on in my head and it's natural for someone who's never been at that level to think that."
Although separated by just 3s in Beijing, Roulston's career path since has been vastly different, not wholly surprising given the differences in support the pair have access to.
Wiggins has gone on to become Tour de France champion - this year becoming the first Brit to do so - and starred at the London Olympics when winning the individual time trial.
But although Roulston has had health problems - his career was in the balance in 2006 due to a heart condition which has been resolved - that lack of sustained success is something he acknowledges.
"I don't think people have seen the best of me. I think there's always been a setback, or mentally I haven't quite been there, or something like that.
"It's quite overwhelming getting over there and being among the world's biggest riders but, at the end of the day, it's a bike race ... I race the classics and any man can be beaten on any day there."
The furore over Lance Armstrong, which has seen the American stripped of his seven Tour de France titles, and a host of others involved in cycling, including riders, leave the sport in disgrace, could be another reason for Roulston's renewed zeal.
He recently wrote in a blog that Armstrong could one day be thanked for bringing cycling's doping scandal to a head - at the very least Roulston will know that next year he will be in pelotons that will be cleaner than they have for some time.
A rider with the Radioshack-Nissan-Trek team, which includes Fabian Cancellara and the Schleck brothers, Roulston is confident he will have the support to go for placings in the classics and major tours.
The early part of next year will be crucial in seeding the riders in his team and, after missing selection for this year's Tour de France, Roulston is eager to be involved in the next one.
Firstly there are the NZ road championships in Christchurch early next month and the chance to wear the silver fern in Europe and beyond next year. Roulston, twice national champion, won on the course last year.
Although he missed selection for the London Olympics when Greg Henderson and Jack Bauer were picked for the road race, which angered him at the time, Roulston says he is keen to represent NZ.
"I want the gold before I retire. That's the big driving force. The next couple of years are very important. The Olympic gold for me personally would be the icing on the cake."
After the ups and downs Roulston has endured that would be some finish. In the meantime he is back on his bike, hoping for a new start.
- APNZ