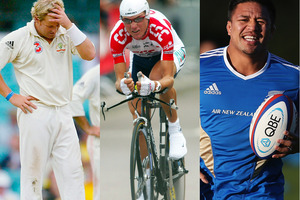 The All Blacks have been struck down with a violent but brief illness ahead of their test match against England this weekend, with 18 players and officials debilitated by a bug that has swept through the team.
Should the unthinkable happen, and the All Blacks lose for the first time in 21 games it seems like coach Steve Hansen has the perfect excuse at his disposal.
But Hansen has already ruled such claims out, and has acknowledged the affect the bug has had on his side, but stressed it is something they will handle and work through.
Opportunities to make excuses in sport are not always handled with such professionalism and class. Here are ten examples of momentous excuses sporting stars have used to either defend their lacklustre performances or to get out of a hole.
New Zealand's "Suzie" woe
Forty-eight hours before the 1995 Rugby World Cup final, the All Blacks were laid low by a bout of food poisoning that played a significant part in their defeat to South Africa.
"Suzie the waitress", who may or may not have ever existed, took the blame for allegedly poisoning the All Blacks side ahead of the final. The passage of time has been kind to Suzie, however, with Colin Meads, the manager of New Zealand at the time, later admitting: "Suzie is just a fictitious person as far as I was concerned. I don't think anyone was called Suzie." The coach at the time, Laurie Mains, later said he believed someone had tampered with the coffee in the team room.
Manchester United - Grey kit
Manchester United's grey kit carried the blame for Sir Alex Ferguson's side losing at Southampton in 1996. Nobody at The Dell could quite believe their eyes as United headed down the tunnel at half-time trailing 3-0. The explanation for their pitiful display was obvious, the players were "invisible" on the pitch, according to Fergie, "they couldn't pick each other out". Lee Sharpe's first recollection of the half-time team talk is being told by the fiery Scot to "get that kit off, you're getting changed". The visitors came out for the second half wearing blue and white but they still lost the match 3-1. The ghastly grey kit was officially retired two days afterwards, with United going on to win every remaining fixture to claim the title.
Shane Warne's mum
Infamous text messager and cricket legend Shane Warne blamed his mother after taking a banned diuretic. She had seen him on television and told him he looked fat so he took the drug. The excuse didn't wash, though, and he was banned for a year.
Kenny Dalglish's balls-up
Dalglish suffered one of the lowest moments of his celebrated career when his Newcastle side drew 1-1 at Stevenage, who were 15th in the Vauxhall Conference, in the FA Cup in 1998. After the match, the Scot's ire was aimed at the match balls, which were "too bouncy" for famously gifted ball-players like John Beresford and David Batty to work their magic in the midfield.
Floyd Landis' drinking
Floyd Landis seemed to be the next darling of the US after taking over from Lance Armstrong as the Tour de France champion - and then went and failed a drugs test and was stripped of his title. But he didn't take drugs - he apparently spent too much time drinking and then said it was some kind of plot to destroy him. Until he finally admitted he doped and had lied all along.
Ukraine haunted by frogs
Ukraine's 4-0 loss to Spain at the 2006 World Cup was a chastening experience but, with Fernando Torres and David Villa running rampant, most teams would have struggled to cope. Nonetheless, Vladislav Vashchuk was on hand with a ludicrous excuse. "Because of the frogs' croaking we hardly got a wink of sleep," the defender explained. "We all agreed that we would take some sticks and go and hunt them." The hunting was the first time he'd got close to someone all day.
Ronnie O'Sullivan - female streaker
'The Rocket' was coasting in the best-of-19 Masters final at Wembley in 1997, leading Steve Davis 8-3 and needing only two more frames for victory, when a female streaker got in on the action during the afternoon session. Following the unexpected guest's foray, O'Sullivan, clearly with other things on his mind, completely capitulated, losing the next seven frames - and the match. Later, O'Sullivan claimed the shock interruption had broken his concentration. Davis, the consummate professional, remained unmoved at the disruption and, as his opponent struggled to deal with his emotions, 'The Nugget' took full advantage to storm back and snatch a third Masters title - his first since 1988.
David James' PlayStation
With a series of gaffes threatening to derail his hopes of installing himself as England's No. 1, James identified his PlayStation as the source of his woes. "I was getting carried away playing Tekken II and Tomb Raider for hours on end," he said after conceding three times against Newcastle in 1997. Of course, he did go on to make a glut of appearances for the national team - but he never truly managed to shake accusations of being an error-prone player. Perhaps there was a sneaky Xbox360 involved in later years.
Hot air from Mervyn King
King had caused quite a stir when he romped into a World Darts Championship semi-final with Raymond van Barneveld off the back of a 5-0 hammering of Colin Monk - but the clash with Van Barneveld proved a step too far for King, who blamed the air conditioning for his loss. "I asked for it to be turned off before I went up there and it wasn't," he said. "I asked for it to be turned off at the break - it wasn't. The air conditioning doesn't affect Raymond because he throws a heavier dart and a very flat dart." Organisers insisted the air conditioning had been off for the duration, leading the Observer to publish the classic line: "Mervyn, you require... a better excuse."
Tyler Hamilton's dead twin
Cyclist Tyler Hamilton has perhaps the grossest excuse of all time - it was his dead twin's fault. After failing a drugs test he said the genetically different blood cells were due to a 'vanishing twin' which had shared his mum's uterus at the same time as he did. The excuse didn't wash and he retired after failing another dope test.
-nzherald.co.nz