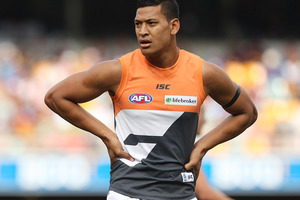 Parramatta reportedly want to deliberately break the NRL salary cap in order to sign Israel Folau and have asked the ARL Commission for permission to do so.
The Eels have put in a special request to the game's governing body to exceed the $5 million cap by $AU400,000 so they can fit the AFL convert onto their books, according to News Ltd.
The Eels' cap would then be reduced by $400,000 the following season.
Over the two seasons Parramatta would spend the same amount on players as each of the other 15 NRL clubs are allowed.
Eels boss Ken Edwards met with ARLC Chairman John Grant last week to discuss the propsal, says the newspaper.
Parramatta claim they have been open in their intentions to sign Folau, but it is unlikely such a radical proposal in regard to bending the cap rules would go down well with other NRL clubs.
Rugby league authorities have taken a tough stance on salary-cap cheating - including stripping Melbourne of their 2007 and 2009 premiership titles - and decimating the Bulldogs' season in 2002.
Parramatta were said to be initially hoping to register Folau with the NRL on a contract worth $150,000 but that was rejected by salary-cap auditor Ian Schubert.
If the proposal is rejected by the ARLC, Parramatta will need to shed $400,000 of player talent before former international Folau can take the field for them in 2013.
French or Japanese rugby union could emerge as a possibility next year for Folau if the Eels, who are the only team he has said he wants to play for, can't find a way to sign him.
- AAP