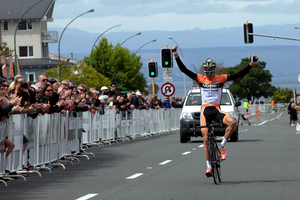 Tour of Southland winner Mike Northey brought his form north when taking out the men's classic race at the 160km Contact Lake Taupo Cycle Challenge yesterday.
Taupo again turned on a spectacular day for the elite riders and, in a field of over 70, Northey won in a time 3h 45m 14s, with teammate Matthew Cronshaw second a little over a minute behind in 3h 46m 40s. Last year's winner Michael Torckler was also not far behind in a time of 3h 46m 46s.
The OPI women's road race was won in record time by Rushlee Buchanan in 2h 44m 50s as she held off Emily Collins by a second with Reta Trotman third, only a further 0.18s behind. Rushlee's time beat the previous 100km record - set by Kate Chilcott in 2010 - by over 10m.
Event director Kay Brake said: "We're pleased that every year we are able to attract the best of New Zealand's cyclists and that, even after 36 years, records are still being smashed."
In the Contact Huka mountain bike challenge, recent Olympian and current NZ champion Karen Hanlen was first home with Sam Shaw from Rotorua taking out the men's event.
The Challenge offers 12 different events, catering for cyclists of all fitness and ability levels. It is operated by a charitable trust on behalf of the Taupo Moana Rotary Club, with the proceeds going back into the Taupo community.
- Agencies