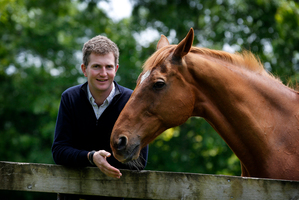 It's a good time to be an talented, ambitious equestrian rider in New Zealand.
Off the back of the team bronze medal at the London Olympics this year, there's a crop coming through either in or just below the top echelon ready to grab the reins and maintain New Zealand's place at the top table.
Cambridge rider Jesse Campbell is in the vanguard of that group, and there are others, such as Olympians Jock Paget, Caroline Powell and Jonelle Richards, with Clarke Johnstone and Lucy Jackson all shaping up as key figures in keeping the silver fern flying high once the great duo of Mark Todd and Andrew Nicholson have moved on.
No one's expecting that to happen for at least one more Olympics in Rio in 2016, and Campbell has his dream.
His first choice upon leaving St Peters School was rugby or equestrian. A 2m tall lock in the first XV, the choice was probably easy once he thought it through.
"To be honest I'd always had the love of horses, it's been a passion of mine right from the early days and I'd always had the dream of going to the Olympics," he said.
"I never really had the desperation to be an All Black. I was probably realistic about that."
He spent time with double Olympic champion Todd at his stables in England before getting a place with world No 1 Nicholson at his stables in Marlborough, Wiltshire.
The learning curve was steep and important and six months ago Campbell, 23, moved into his own stables, 20 minutes down the road. It is becoming something of a Kiwi enclave, if more by accident than design.
Todd has shifted into the area; last year's World Cup champion Johnstone has horses at that property.
Powell has horses at the same location as Campbell; and Richards is also nearby.
Campbell has recently acquired a fine prospect in Lancelot, a 7-year-old he rates highly.
He already had two nice horses in 9-year-old Kaapachino, who has qualified for high-profile Badminton next year, and 8-year-old Too Swish.
"It has been a massive year in terms of leaving Andrew and setting up on my own," he said.
Because there's no young rider or development stepping stone, "with the riding you're in the deep end straight away".
But thinking of Rio gets the pulse racing.
"Horses are notoriously difficult to judge but in terms of having the setup and the right horses at the right time we are perfectly placed," Campbell said.
"New Zealand is in a really good place. The team spirit is probably the strongest of all the teams and we're all really competitive with each other. We say Andrew and Mark would be a shoo-in for any team but we all want to displace them as much as anyone else."
New Zealand lost its way for a time after the Todd-Nicholson-Blyth Tait-Vaughn Jefferis era through the late 1980s and into the 1990s.
Standards dropped and attitudes weren't quite right for a period.
However the signs are encouraging that the ball won't be dropped this time around.