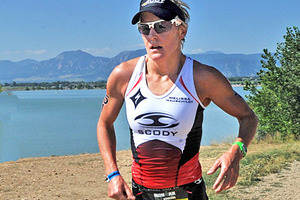 World champion Melissa Hauschildt is the latest top-level triathlete to sign up for January's inaugural Ironman 70.3 Auckland.
The race on January 20 that doubles as the official Asia Pacific Championship and boasts US$75,000 in prizemoney, has already lured 10-time Ironman New Zealand champion Cameron Brown and two-time Olympic medallist Bevan Docherty, an Ironman 70.3 world champion podium placegetter this year.
Hauschildt, nee Rollinson, is a former Australian champion steeplechaser who made a remarkable switch to triathlon three years ago. The 29-year-old won the Ironman 70.3 world championship in her first full year in the sport last year along with the Asia Pacific Championship.
After an injury-affected 2012 season, Hauschildt is aiming to defend her Asia Pacific honours in Auckland on her way to a return to the top of the sport next year.
"Auckland is a big one for me because it is the Asia Pacific Championships," Hauschildt said.
"I won the Asia Pacific Champs last year and I would like to defend it. It is good to be able to win the title races and I expect it will be a really tough field in New Zealand.
"I had an ankle injury for most of the year, but it has still been a reasonable year. It has been disappointing not to have been able to run more but I managed to spend more time on improving my bike and swim.
"I set some bike course records this year so hopefully with my running coming back next year should be really good."
Hauschildt was a successful school crosscountry athlete before moving to steeplechase, where she won several Australia titles, a Commonwealth Games silver medal and also a junior world record. Only injury prevented her from fulfilling her Olympic dream as well as the 2010 Commonwealth Games in Delhi.
That led to her decision to switch to triathlon.
"I really enjoy triathlon and I am glad I made the switch. Most of all, I enjoy training for three disciplines. There's so much variety in the training and less chance of injury, too."
She won her first three triathlons and was second in the Ironman 70.3 Asia Pacific Championship in Thailand in 2010, giving her the encouragement to attack the sport fulltime last year. She soon moved with her husband to Boulder, Colorado, to train.
A foot injury thwarted her chances in the biggest races this year, although she recently chalked up wins over the Ironman 70.3 distance in Augusta and most recently the Australian championship in Mandurah, Queensland.
"The big aim for 2013 will be Las Vegas [and the Ironman 70.3 world championship] and Auckland will be an important way to start next year."
Organisers expect to name several other world-class athletes in the coming weeks.
- APNZ