23-year-old will celebrate his 1000th NZ win in record time.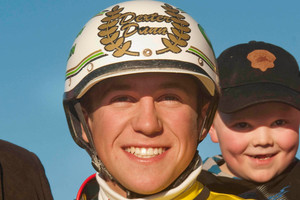 What do you aim for next when you have achieved your career goal by the age of 23?
Don't ask harness racing driving freak Dexter Dunn because he admits he doesn't know.
The Canterbury horseman will this weekend almost certainly join the elite club of New Zealand reinsmen to have partnered 1000 domestic winners, as he sits on 996.
The 1000 club has always been the big time in New Zealand racing - of either code - as only the very, very best get there. When Dunn salutes the judge after reaching the mark he will be the 20th Kiwi driver to do so.
Most of the recent graduates have reached that summit in their 40s. Dunn will do it just two months after his 23rd birthday. To put that further in perspective, the only other driver to get to 1000 in their 20s was Mark Jones and he was 29.
Considering drivers don't start their careers until they are 16 at the earliest, Dunn will reach the milestone in half the time it has taken any other reinsman and about a quarter of the time it took the likes of outstanding drivers like Maurice McKendry or David Butcher.
"It is a little bit hard to believe," Dunn told the Herald.
"The 1000 club has always been the one only the great drivers get to and when I started my career if somebody told me I would get there ever I would have struggled to believe them. And now I am probably going to do it this weekend. Now it is coming up I am starting to realise it is a big deal."
Dunn is already well past 1000 wins worldwide, after successes in Australia and North America.
Having driven there, he has no immediate ambitions to return. "I know the opportunities are there and maybe one day I would like to make the move to Aussie or the US.
"But I have too good a thing going here at the moment to consider moving." That good thing going includes huge support from a massive base of trainers, most importantly Cran Dalgety, who could well win this season's premiership. "Cran has a lot of horses in work and is great at placing them.
"And to be honest that makes driving some winners very easy. Some of his horses start very short and all I have to do is steer them.
"Cran has been very good to me and I'd like my 1000th winner to come in his colours because he has helped me get here."
Dunn has obvious future goals, like winning New Zealand Cups and Interdominions, and maybe somewhere a decade or two in the future he will catch Tony Herlihy as New Zealand's most successful ever horseman, which could well total 4000 winners before the great man retires.
But Dunn's most immediate target is more specific. "I'd love to win a Derby or an Oaks.
"I know there are quite a few of them around if you count the ones in Australia but I've never won one.
"So one of those this season and the premiership again and I will be happy." Coming from any other 23-year-old that was sound arrogant. From Dunn, it sounds like a certainty waiting to happen.