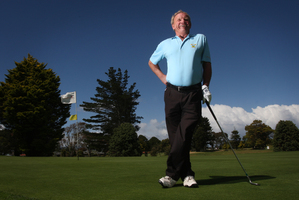 Passionate golfer John Foley has waited 20 years to get a hole-in-one, but even he was shocked when the event aligned with an auspicious sequence of numbers.
The 61-year-old was playing a grand slam qualifiers round at Mount Maunganui Golf Club last Saturday when he hit a hole-in-one on the 9th green, but never realised the significance of the timing of his "pure" ace shot until he was back at the clubhouse.
Last Saturday was the 10th day of the 11th month of the 12th year of the century, and Mr Foley just happened to be using an eight iron to complete the 160m shot.
That's a hole-in-one with an 8 iron on the 9th green on November, 10, 2012 or 8-9-10-11-12.
When his ball disappeared on the green and into the hole Mr Foley and his fellow golfers "hooped and hollered" very loudly.
"I couldn't believe my eyes. It felt absolutely fantastic.
"I'd been playing golf for so long I thought I was never going to get one, although I'd been close a few times. The special sequential alignment of numbers and dates just makes it all the more special."
But the coincidences don't end there.
Mr Foley also achieved his ace on the day he took up his role as the men's club captain at Mount Maunganui Golf Club.
On September 9, 2009, or 09/09/09, Mr Foley's good mate and fellow golfer Dean Muller, achieved his first hole-in-one in 25 years of golfing on the same 9th green.
Mr Foley said he started playing golf about 23 years ago and had been a member of the Mount club on and off since 1990, playing one round a week.
"I have been waiting a very long time for my first hole-in-one and now I can't wait to get my next one.
"Dean and I are seriously talking about whether we should head to Tauranga Golf Course on December 12, 2012 and play the 12th hole.
"In our lifetime we won't get to see the alignment of these numbers come up again and it would be fantastic if one of us could get another hole-in-one day on that hole, although the odds of doing so are probably millions to one."
Mr Foley said his lucky hole-in-one golf ball was going to be specially mounted by his club.
"When I told my brother, he said to me 'now you can die happy'. But I don't intend dying anytime soon and hopefully I've got plenty of years of golfing ahead of me to look forward to."
For more articles from this region, go to Bay of Plenty Times