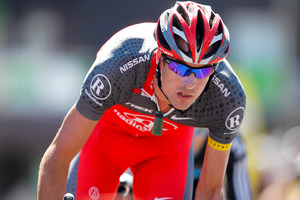 New Zealand cyclist Sam Bewley has issued a plea for fans to maintain their faith in the wake of the Lance Armstrong doping allegations saga.
Bewley earned a second Olympic team pursuit track bronze medal in London but is now dedicated to the road. The 25-year-old signed with Australian-based professional team Orica GreenEdge (OGE) in May and is one of a record seven Kiwi riders in contention to ride the three grand tours of France, Italy and Spain next year.
Bewley has dealt with Armstrong more than most. He spent two years with the alleged drug cheat's RadioShack team from October 2009. Shortly after signing, he trained with Armstrong on mountain bike tracks in Arizona. Armstrong was so impressed with Bewley's ability he complimented the then-rookie between clenched teeth, "you're not a bad rider".
In 2010, when he first spoke to the Herald on Sunday about that meeting, Bewley said: "Dealing with Armstrong is pretty 'next level' for me. He was always a hero of mine. When I was young, I used to sit up watching the Tour de France, hoping he'd win every year, which he did.
"I met him ... and thought he was intimidating, just like he makes out in the media, but after spending a week with him at that training camp, I now think of him as more of an inspiration. "
Bewley has since been reluctant to comment on his dealings with Armstrong, as the doping allegations continue to generate turmoil, but he is adamant his generation of professional cyclists are clean.
"I have 100 per cent faith a lot of changes have been made to the sport since that era and it is moving in a different direction. There is the biological passport for starters [testing athletes for abnormal blood levels]. We have tests to monitor that every four months to catch cheats.
"To cycling fans, I say you have to believe in what teams are doing now to stop all this s***. Riders of my age and younger form the majority of the peloton. We are part of the solution. I have never once witnessed anything like that in three years on the [European pro] tour. It is not in the culture now."
Matt White, the former OGE director was sacked last month after admitting to doping with Armstrong's US Postal team in the early 2000s. OGE want no association with such hangovers from the past.
OGE owner Gerry Ryan recently posted a release on the team's website: "Professional cycling is at a crossroads. The future of the sport is being determined by what we do today. OGE will not step back from taking any necessary decision to protect the integrity of the sport and the team and to restore the confidence of cycling fans around the world. It's time to put our values to work. OGE believes a hard-line approach is an essential prerequisite to continue in the sport with credibility."
Bewley is aiming to ride a grand tour this year. He is currently in camp with the OGE team on the Gold Coast.
"New teams like ours [OGE was set up early last year; Bewley joined them in May] have strict anti-doping policies. It's all part of proving it really is one of the greatest sports in the world. All I can ask is fans keep believing."
Bewley insists it remains a reasonable expectation for the likes of Tour de France riders to complete around 3400km in 23 days without being tempted to source illegal help.
"The style of racing has changed and I think we saw that this year. Bradley Wiggins won in a different fashion to how it had been won in years gone by. He simply rode stronger; there were no flourishing efforts on the climbs or riding away from the peloton."
BikeNZ high performance manager Mark Elliott backs Bewley's assertion the sport has changed. Part of Elliott's brief is to help the country's best riders get Olympic medals but also to develop athletes capable of pedalling on cycling's biggest stage - the grand tours.
"The more anti-doping comes to the fore, the more New Zealand riders look set to benefit," Elliott says. "A lot of pro teams know New Zealand athletes are generally clean because we have one of the best drug testing programmes in the world."