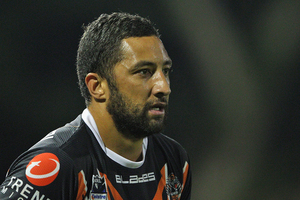 One-year contracts could become the norm for some of the NRL's biggest names, but Benji Marshall's manager says his star client is now unlikely to ever head to Japan.
With Sonny Bill Williams' move from Japan to a one-season deal with the Sydney Roosters next year now seen as a precedent, it's predicted a host of the game's most sought-after talents could be looking to take advantage of lucrative overseas offers from rugby union.
Marshall's agent Martin Tauber raised the possibility on Thursday that the Wests Tigers five-eighth might ask for a release from his contract which ends in 2015, to secure off-shore opportunities during the 2013-14 off-season.
After the NRL blocked a similar attempted move by Marshall at the end of 2009, Marshall had his latest suggested stint in Japan knocked on the head on Thursday by the Tigers - denying him the opportunity to maximise his earning potential.
Marshall isn't off contract again until 2015 and Tauber says the door might now be shut for good on a stint in Japan.
However, Tauber believes it could pave the way for a string of one-year deals between clubs and the game's biggest stars.
North Queensland captain Johnathan Thurston heads the list of players who might have a big decision to make, with the Queensland and Test five-eighth off contract at the end of 2013.
"The day could come when players only want to sign one-year deals so they can take advantage of the enormous amount of money they can earn in places like Japan and Europe," Tauber said.
"You look at players like (Billy) Slater, Thurston, (Cooper) Cronk, they would all be massive stars over in Japan where some players can earn $600,000 - $800,000 for just eight games.
"As managers it is our job to get the best for our clients and a deal like that could set a player up for life. A precedent has been set with Sonny Bill (Williams) and you might very well see other players follow suit.
"The clubs would probably want guarantees and the (ARL) Commission would want to have their say on it, but I can see a day where players might only want to commit to one-year deals."
Tigers chief executive Stephen Humphreys said on Thursday there was no chance their leading man Marshall would be released from his NRL contract so he can play rugby union in Japan.
"Let me put your minds at rest. This will not be happening," Humphreys said in a statement.
"... Benji Marshall will remain an integral member of our team and will not be seeking a release from his contract."
Tauber conceded Marshall was now unlikely ever to take advantage of any big money deals in Japan.
"We should have done it in 2009," he said.
"Benji was off contract then and that would have been the best time to do it, but the NRL prevented it. Whether the same scenario comes up again for another player it remains to be seen if they could stop them from going, but it is unlikely to be Benji.
"He is getting married and when his current deal ends he will probably have children and he will probably not want to uproot them so I can't see it happening."
-AAP