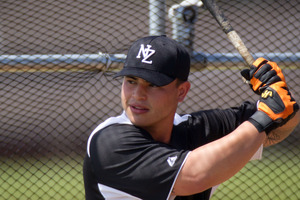 Minor league veteran Lincoln Holdzkom will take the ball for the Diamondblacks in their opening World Baseball Classic qualifier against Taiwan in Taipei City tonight.
The lanky California-raised hurler - who made it as far as AAA as a Red Sox prospect - faces the daunting task of keeping overwhelming tournament favourite Taiwan's offence in check as New Zealand plays its first competitive international match.
With Taiwan ranked eighth in the world and the Kiwis unranked, the contest - which screens live on Sky Sport tonight from 11.30pm - shapes as a classic David vs Golliath struggle.
Pitching depth was the major issue for the the Kiwis as they posted a 2-4 record in their warm-up series against Australian Baseball League clubs Sydney and Canberra. Three of the four games they lost were close until coach Andy Skeels went deep into his bull pen late on, with somewhat alarming results. The Kiwis, however, expect to be competitive when they have their strongest line-up on the field.
"Our team is in great shape both physically and mentally," Skeels said. "We had a strong training camp in New Zealand and our exhibition games in Australia proved to be a very important step forward in our development."
"The Diamondblacks are a very confident team right now and eager to take the field against any of the teams in our tournament. We have shown a tremendous work ethic, possess a strong sense of purpose and look forward to the challenge of competing against world-class competition."
More manageable assignments against Johnny Damon's Thailand and the Philippines lay ahead, however the Kiwis will be keen to make a strong impression in their first outing.
"New Zealand will be very proud to call the Diamondblacks their own," Skeels said. "Our boys have rallied around their underdog status, have devoted themselves to their teammates and country and are eager to step in the box against all those who doubt whether or not we should be here."
Former Blue Jays prospect Scott Campbell will play shortstop, with Alan Schoenberger (second base), Daniel Lamb-Hunt (third base) and Red Sox prospect Boss Moanaroa (first base) rounding out the infield.
Schoenberger will bat lead off, with Campbell third up and Boss Moanaroa hitting clean-up. Current Blue Jays prospect Daniel Devonshire will DH and bat sixth.
Red Sox prospect Te Wera Bishop has won the battle for the starting catcher's job. The outfield consists of Moko Moanaroa (left field), impressive defender Max Brown (centre field) and Tim Auty.
Diamondblacks v Taiwan
1. Alan Schoenberger 2B
2. Daniel Lamb-Hunt 3B
3. Scott Campbell SS
4. Boss Moanaroa 1B
5. Tim Auty RF
6. Daniel Devonshire DH
7. Te Wera Bishop C
8. Moko Moanaroa LF
9. Max Brown CF
SP Lincoln Holdzkom