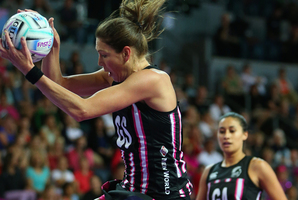 Another Anna Harrison innovation. Kayla Cullen doing Gangnam Style. Malawi cartwheels and backward rolls.
Twenty-two substitutions in a single match.
And the worst Australian netball side ever seen on these shores.
The tournament tagline promised 'Netball like you have never seen' and on many levels - positive and negative - Fast5 delivered yesterday.
It was a festive atmosphere at Vector Arena, with plenty of singing and dancing in the aisles - though organisers will be disappointed with the small crowd because vast areas of the stadium were empty.
The Fast5 Ferns stamped their mark on day two of the tournament, with clinical victories over Malawi (44-24) and South Africa (52-19).
Maria Tutaia was again the standout, with her prodigious ability to sink two and three point shots, and it seemed like this brand of netball was made for the laconic Mystics star.
England started well, disposing of Jamaica 39-28, before being upset by Malawi in the match of the tournament so far.
The African side had been the neutrals' favourite team over the first two days of the tournament, attracting plenty of loud support, from a small bunch of their own supporters and local fans.
They employ a style unique in world netball, often prepared to go back down the court just to retain possession, and in that way could be seen as the Barcelona FC of netball.
Malawi were great value for their 27-23 victory and celebrated like they had just won the world championships.
Players collapsed on to their knees in prayer, while others did cartwheels and backward rolls. The English were slightly bemused as they waited to shake hands.
Shooter Mwai Kumwenda continues to be a star at this level, and surely it is only a matter of time before there is an African player in the ANZ Championship.
"It would strengthen their nation and the more exposure they get, the more they will grow," agreed Ferns captain Laura Langman. "Malawi are gaining some momentum and they are have got some smarts out there. They certainly know what they are doing."
Australia were the continuing disappointment yesterday, losing close matches to South Africa 28-27 and Jamaica 34-33, as their strategy of bringing a development squad backfired spectacularly.
Indeed on Friday night, it truly was 'netball like we've never seen' before - as Australia and New Zealand clashed before a few hundred fans in a match devoid of any atmosphere and the Diamonds resembled schoolgirls in the face of a Ferns onslaught.
"It is really disappointing for them and you never want results like that so no one would be more shattered than them," says Langman. "I don't know whether their approach was right or wrong [but] certainly hasn't been their year."
Of course yesterday was about entertainment as well as sport and didn't disappoint on that level. Harrison came up with yet another innovation - passing the ball to herself off the goalpost in what has been christened the Harrison hoopla.
Meanwhile, the sight of Cullen doing the Gangnam Style dance - in the middle of the court just before the start of the second half against South Africa received one of the biggest cheers of the day.
Unlike the previous Fastnet tournament, where teams stuck to traditional style netball, the Fast5 concept has seen all nations - with the notable exception of Australia - embrace the new rules, particularly when it came to attempting long range shots. Teams also made good use of the unlimited rolling substitutions, with Wai Taumaunu making 22 changes alone in the match against Malawi.
The top four sides (New Zealand, England, Jamaica and South Africa) after round robin play meet in today's semifinals before the final at 9.30pm.
England are the World Netball Series defending champions while New Zealand took the titles in 2010 and 2011.