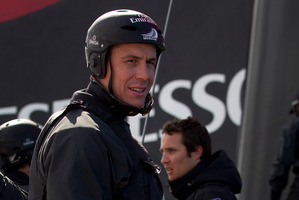 Olympic gold medallists Rob Waddell and Hamish Carter are understood to be two of the final four candidates interviewing for the job of chef de mission to the next Commonwealth and Olympic Games.
Former Olympic boxer and current cultural adviser Trevor Shailer is also believed to be contesting the position vacated by Dave Currie after the London Games. The identity of the fourth candidate, apparently a woman, is yet to be established.
The job is not expected to be full-time, so the successful candidate might be able to continue their day-to-day duties with time off closer to key events. Currie set such a precedent as manager of the New Zealand cricket team through to the Delhi Commonwealth Games.
Waddell (37) remains contracted to Emirates Team New Zealand as a grinder ahead of next year's America's Cup. However, he has already shown an aptitude for business and governance. He was a consultant who helped gather the necessary funding to secure the building of the new high performance cycling centre in the Waikato.
In addition to his Olympic gold, Waddell was also a world single sculling champion in 1998 and 1999 and a three-time Halberg sportsperson of the year. A renowned public speaker, Waddell also speaks Japanese and has a black belt in judo - handy skills if the 2020 Games are awarded to Tokyo.
Carter (41) currently works at beverage company Lion in what his Linkedin webpage describes as a 'sales capability leader'. The role is part of the human resources department where he manages "the technical and leadership development of the sales team". Those skills could dovetail into being chef de mission, which involves dealing with human resources of a sporting variety.
Carter also established SportConnect in 2007, a business that connects sport to business by funding professional athletes into commercial relationships through Sky Television's advertising clients. London gold medallists Lisa Carrington, Jo Aleh and Olivia Powrie are listed as clients on the company's website. Carter remains a director at High Performance Sport New Zealand.
Shailer (41) has the advantage of a background working in the inner sanctum of Olympic team management across several Games and was often Currie's right-hand man. He represented New Zealand in the 64kg boxing class at the 1992 Barcelona Games and took bronze in the same class at the Victoria Commonwealth Games two years later.
From Manawatu, Shailer ruled the New Zealand light welterweight and welterweight ranks for nearly a decade. He runs a boxing gym in Wellington and was made a Member of the New Zealand Order of Merit for his contribution to sport and the community.
If the fourth unknown female candidate is appointed it would be a first for the New Zealand Olympic Committee who, in a similar precedent, appointed Kereyn Smith to the role of secretary-general in October 2010, taking over from Barry Maister. Barbara Kendall is one of 23 women among 109 International Olympic Committee members.