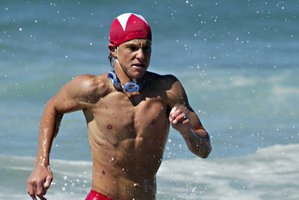 New Zealand captain Andy McMillan has urged his team to keep calm on the final day of the Rescue 2012 lifesaving world championships in Adelaide today.
After collecting a huge lead during two days of pool competition, the Kiwis immediately came under fire from hosts Australia during the first finals on Glenelg Beach yesterday.
But Olympic swimmer McMillan is confident his team can hold on and claim their first world crown since 1998.
"We've come out of the pool in outstanding shape, 81 points ahead, and we definitely won't be resting on our laurels," McMillan said. "Australia will be stinging after what we did to them in the pool but we're not going to just roll over."
The Australian comeback started in predictable fashion, with dominant wins for ironman champions Shannon Eckstein and Kristyl Smith.
Smith took out the women's board race, although New Zealand's Nikki Cox and Devon Halligan collected important points in second and third, beating Australia's second paddler, Rebecca Creedy.
Eckstein landed a more painful blow, however, trumping New Zealand Olympic kayaker Steve Ferguson in the ski race. Australia's second paddler Hugh Dougherty added salt to the wound by pipping Ferguson on the line. Kiwi Kevin Morrison was fifth.
There was better news for the New Zealanders in the sprints, where Paul Cracroft-Wilson and Max Beattie both made the A final, with Tom Nolan the only Australian.
Chanel Hickman also cruised into the women's beach sprint final, with Cox also making the B-final. Both New Zealand's beach relay teams also made their finals.
Australia will pin their hopes on Eckstein and Smith in today's ironman finals, hoping to pull off what would be a remarkable comeback.
Natasha Hind earlier tore apart the record books, putting New Zealand in a strong position after two days in the pool. The Kiwis arrived at Glenelg Beach in second place overall, 63 points behind Italy but with a vital 81-point lead over fourth-placed Australia.
Hind, 23, won two gold medals, erased two seconds off the world record in the 200m super lifesaver and shattered the New Zealand record by almost 10 seconds. Her time of two minutes 24.55 seconds was good enough to beat Australian Miranda Bell's 2:26.59, with Bell having set the world record last year.
"After the Olympics and when I was setting some goals for here, I did have that 200m super lifesaver record in the back of my mind," Hind said. "I knew it was achievable so I set about doing everything I could to get over here in the best possible shape."
She also claimed gold in the 50m manikin carry, breaking the national record in the process with a time of 36.31 secs. Crucially, in both wins, New Zealand's second swimmers were close behind - Laura Quilter picked up bronze in the 50m carry and Sam Lee, after three golds on the first day, was fourth in the 200m super lifesaver.
Hind has been hunting a performance like this since the London Olympics.
"After the Olympics, I went travelling and came back with two months to get in shape. Those were probably the hardest two months of training I've ever done but I had breakfast with my parents a couple of days ago and was in a really good frame of mind. I said to Dad that I couldn't have done any more. I was picked for the pool and I'm just really happy I could deliver for the team."