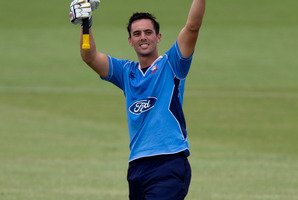 As the monsoon lashes Sri Lanka, it's a good time to be a New Zealand provincial cricketer. A fledgling home sun is enabling local players to shine with the tour to South Africa - including tests in Cape Town and Port Elizabeth - starting late next month.
Meanwhile, the national incumbents contemplate stale hotel rooms on a tour wedged into the Sri Lankan wet season to meet International Cricket Council demands.
Saturated practices, card schools and mental visualisation are poor substitutes for actual first-class cricket.
As a result, several players at home are in a prime position to seize their chance for future international selection. Here's a look at a candidate from each province with plenty to prove as the Plunket Shield and, on Friday nights, HRV Cup unfold.
1 Mark Gillespie, Wellington
Worked in Jesse Ryder's twin-century shadow against Central Districts, taking four wickets for 154 runs from 44 overs for the match. It follows his recovery from an ankle sprain so severe, he was in a moon boot. Gillespie missed the West Indies, India and Sri Lankan test tours as a result. He might be 33 but his aggression is something New Zealand can't ignore against world No 1 South Africa. Gillespie inexplicably missed the contracts list but his heroics against South Africa in March with first innings figures of five for 59 and six for 113 provide compelling evidence for a recall. He's played one test on the fast, bouncy Republic wickets in 2007 - his debut at Centurion. New Zealand lost by an innings and 59 runs; Gillespie took five for 136.
2 Dean Brownlie, Canterbury
A stellar start to his test career in Zimbabwe and Australia (268 runs at 53.6) established him as a solid answer to New Zealand's troublesome middle order. A further 107 runs at 15.29 saw him dropped after a duck against Zimbabwe, a broken finger and woe against South Africa and the West Indies where his highest score was 35 in seven innings. His problems against spin in the Caribbean saw the 28-year-old sent on secondment to India to learn more about playing turn. Brownlie made a century for Canterbury in their first round Plunket Shield loss to Otago.
3 Anaru Kitchen, Auckland
At 28, Kitchen's chances of playing international cricket are over-ripe. Has promised plenty across all formats in five seasons but has only been on the cusp of selection. His recent 33 runs from 21 balls to guide Auckland to victory over Sialkot in the Champions League qualifiers was a treat. Kitchen was a picture of composure, swatting the Pakistani bowlers under pressure. At the first-class end of the scale, he averages 38.40 in 32 matches but hasn't bettered that figure in the past two seasons. He must seize this season to progress his chances. He started with a duck and 60 against CD.
4 Carl Cachopa, Central Districts
Nothing screams "pick me" like the weight of first-class runs. Cachopa has produced 848 this year at an average of 77.09. His career-high 179 not out for CD against Auckland was his fifth in the last five Plunket Shield matches in which he has batted. He bats at No 3 and four of his five tons came in the first innings. All but last week's innings came after a cheap early wicket. In between stints with Auckland and now Central Districts, Cachopa played in the South Australia second XI.
The 26-year-old shifted from his Bloemfontein birthplace 10 years ago so he already has experience in that part of the world. His siblings include fellow first-class cricketers 24-year-old Brad (Canterbury) and 20-year-old Craig (Wellington).
5 Hamish Rutherford, Otago
The 23-year-old has dispatched the "son of Ken" burden early and built a solid record as an opener since earning a more permanent first-class spot in March. Twin centuries in the Northern Districts fixture, followed by 239 against Wellington were a fine way to finish the 2011-12 season.
He has sustained that form with 99 for New Zealand A against India A last month and 91 against Canterbury in the opening round of Plunket Shield. Rutherford is further back in the test selection frame than Cachopa, with Martin Guptill and Brendon McCullum settled as openers for now, but there needs to be a watching brief.
6 Ish Sodhi, Northern Districts
A test spin bowling succession plan remains one of New Zealand Cricket's bigger problems. Tarun Nethula was the answer ... until he got the yips in India. Todd Astle gets a shot in Sri Lanka. If he fails, leg-spinner Sodhi remains a potential Daniel Vettori-type bolter. He's just 20 but has been on NZC selection manager Kim Littlejohn's radar for more than a year and is highly rated by Vettori and former coach John Wright. Sodhi wasn't required by Auckland so Northern Districts signed him. He debuted last week against Otago, taking two for 134. His batting can be useful. He made 22 off 10 balls (including 12 off the last three balls) against the West Indies to get New Zealand into the Under-19 World Cup semifinals in August. His first innings for ND gleaned 48 at No 8.