Sculpt fun run in Auckland draws females of all ages and stages.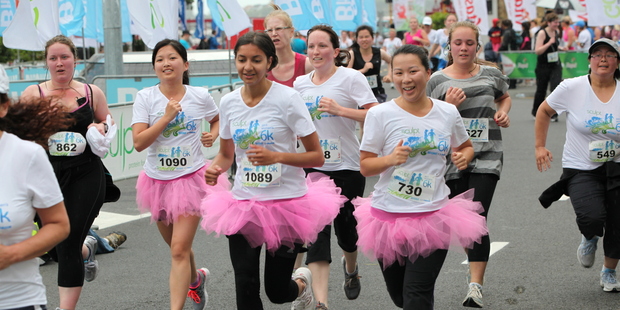 Miquella Payne is looking forward to next weekend, as in her words: "I get to walk with my Mum and Grandma in the big city."
The 7-year-old from Willow Park Primary is one of 3500 females of all ages taking on the Sculpt Women's 6k walk and run, which begins in the Auckland Viaduct next Sunday.
"It's going to be super-duper fun," added Miquella, who also loves to play softball and swim.
"We have been training for five weeks for this event as a family. We walk around the block or go to the park, and we walk longer each time. There are going to be thousands of women walking and running together - I can't wait to be part of that."
The event is a special occasion for the whole family. Miquella's mum, Rachelle, is excited about the day as three generations of her family will unite. "To be able to share in an event like this with my daughter and my Mum is very special to me," said the business administrator.
"My daughter has been my rock in this, encouraging me with my training and walking with me.
"I love to create memories and this will be a good one to look back on and remember. It is also an ice-breaker for myself as a lifestyle change."
There are many women using Scuplt for exactly that - motivation to create a better lifestyle.
The organisers say they are inspired by the women that they meet through this event.
"We have met so many women who have made the decision to live a healthier life than they were living," said De-arna Gardiner, one of the event organisers.
"From women who have lost 40kg to others who have fought major illnesses and won, this event is such a great way to celebrate all their successes," she said.
It is the second Sculpt after last year's inaugural event attracted 2800 entrants. This year the organisers are expecting a record field with many returning from last year.
Among them is Jay-Jay Feeney from The Edge radio station, and joining her will be former New Zealand netball representative and television presenter April Ieremia.
For Feeney, the event is so much more than just a walk around the block.
"It is about the community," said Feeney. "It was so great seeing girls of all shapes, sizes and fitness come together. Everyone was in such a good mood and had a great time. It was great bonding."
Feeney said the immediate success of the event came down to a simple formula: "It's achievable and fun, and the prizes are great, too."
Gardiner, 34, said the atmosphere in downtown Auckland was electric with all the chatter and excitement from the entrants.
"The setting is so unique," she said. "Auckland's Britomart is a humming place every day, but this is the only day of the year that 3000 females are there in their workout gear. It makes for an amazing backdrop and atmosphere."
She said that women tended to be pretty organised and got their mates together well in advance, and they trained together, too: "They inspire and motivate one another."
The key aspect that makes Sculpt have appeal is that it is achievable by athletes of all abilities.
"We wanted to make the distance and course really achievable for anyone to complete with a little training.
"We will always have the front-runners turn up and want to achieve their personal best times, which is awesome, but what we love most about the Sculpt 6k is that with a little bit of training anyone can walk 6km, and then the run option is there as the next goal for people."
Miquella and Rachelle are up for the challenge. For the past five weeks they have been walking alternate days in training.
"You feel a great sense of accomplishment and it inspires you to keep going," said Rachelle.
"It is very exciting to be part of something that I could never have seen myself doing, not even at the beginning of this year."