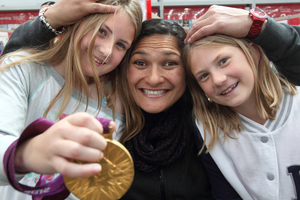 Valerie Adams' fans of all ages turned up to meet their hero during her whirlwind book signing stopover in Tauranga.
A queue of fans lined up at The Warehouse, Fraser Cove yesterday, where the gold medallist was happily signing copies of Valerie, the Autobiography.
Carol Singh is such a big fan she camped out in the store for more than an hour before Adams' scheduled appearance.
"I told my grandson, 'Get Nanny down there, I want to be first'," she said. "I've been watching her the whole time and she's a Tongan girl and I go over there just about every year. She's just beautiful ... I wasn't going to miss this even if I had to crawl on my hands and knees to get here."
Ms Singh has been a long time fan of the shot put star and said Adams lived up to her expectations and more during their brief meeting.
Young up-and-coming shot putter Janita Tai was left speechless after meeting her hero.
"She's a Western Bay and a Bay of Plenty representative at shot put. She collects Val stories and Val's more or less an inspiration and an idol," said Janita's mother, Evelyn Tai.
Mrs Tai said her daughter had even taped Adams' performances at the Olympics in order to study and mimic her technique.
Caitlin Nalder, 10, chose to study the shot put champion for a school assignment on Olympians and brought along her project to show Adams.
"She's really cool and she's an inspiration to lots of kids," she said. "She really inspires me."
For more articles from this region, go to Bay of Plenty Times