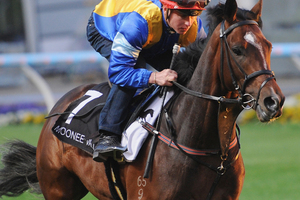 Even a small positive can turn around huge disappointments in racing.
Trainer Murray Baker was looking for anything after It's A Dundeel finished a distant seventh in Saturday's A$1.5 million Victoria Derby at Flemington. "Well, I dunno," he said, scratching his head in the Flemington birdcage as the Derby field was pulling up.
It's A Dundeel got a long way back in a very strung-out field, made a sweeping run when James McDonald pulled him to the outside on the home turn, but hit the wall at the 120m and just battled.
It was obvious It's A Dundeel refused to make ground when ridden hard with horses around him and stretched only when got into the clear by McDonald. "Might need blinkers?" queried Baker.
Suddenly, through the birdcage crush, James McDonald appeared.
"He's had enough, he's exhausted," Baker said simply.
"When he pulled up he stood there and shook - he was out on his feet. He needs a break."
Baker had already booked It's A Dundeel on a flight to New Zealand for a spell before being prepared for the Australian autumn carnivals.
"He'll be a terrific horse next campaign," said McDonald.
There, disappointment deleted.