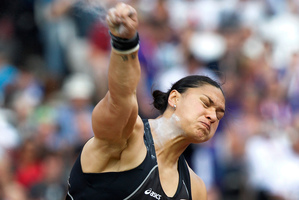 About 10,000 people are expected tomorrow for the ActivePost Open Day at the AUT Millennium campus on Auckland's North Shore.
AUT Millennium is partnering with New Zealand Post's ActivePost programme, which aims to improve the health and well-being of Kiwis by encouraging people to get involved in sports and activities.
Some New Zealand athletes will be coming along, including Olympians Jo Aleh, Polly Powrie, Andy Hayward, Emily Naylor, Richie Patterson, Sarah Cowley and Brent Newdick.
Mike Stanley, the CEO of AUT Millennium, said the open day was a fantastic opportunity for athletes of all ages and abilities to get familiar with the facilities at the campus.
It is also a chance to gain an understanding of the high-performance environment that has assisted a number of Olympians, such as gold medallist shot-putter Valerie Adams.
"AUT Millennium is a unique environment," said Stanley.
"It is the home of high-performance sport in New Zealand and a hub for community sport and recreation for the Auckland region.
"When people come to AUT Millennium to use the pool, gym or have a coffee in the concourse, they see New Zealand's top athletes going about their business.
"It also has some of the best sport-science and training facilities for high-performance athletes in the world The open day is a great opportunity for the public to come and take a look."
There will be plenty of free activities, prizes and stalls throughout the day with the opportunity to participate in a number of sports including hockey, athletics and tennis, or other activities such as rock-wall climbing, potato-sack races, three-legged races and tug of war.
At the serious end, the AUT Sprinz research labs will be demonstrating the VO2 max testing and cycling mechanics clinic equipment.
They will also have strength and power tests for the kids, with a prize.
On the day the North Shore Swimming Club will attempt to break a world record of 100 swimmers racing 2.5km in under 30 minutes.
During the event there are two fun "Post Runs" to participate in: an under-10s (and parents) 800m at 11am, and an age 10 and over 3.6km run at 11.30am.
There will also be a Waka Ama demonstration in the pool and a chance for autograph-signing by top New Zealand athletes.
Register online at www.mish.org.nz/open or on-site tomorrow morning.