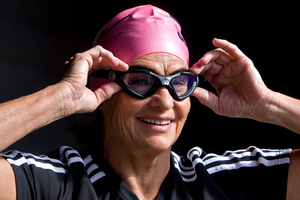 Pam Dickson is a trailblazer in women's swimming and an inspiration to athletes around New Zealand.
The 59-year-old from Rotorua, who recently completed a 40km swim across Lake Taupo - that's 13 hours non-stop swimming - is gearing up for the 2012 State NZ Ocean Swim Series, which begins next weekend at the State Paihia Classic.
But she has a much bigger goal in mind.
Dickson is using the series as training for her attempt to swim the English Channel on August 26 next year, which would make her the oldest New Zealander to do so.
She will be almost 60 then and only 13 people older have made it across the channel.
"After swimming the Cook Strait then the length of Lake Taupo I'm still inspired, so have picked the English Channel as my next big goal," said Dickson. "I keep going as a swimmer because even at my age I am still improving."
She has no doubt that she is going to make channel crossing, and few would bet against her.
"It would mean a lot to get there," she said.
"I loved the challenge of conquering Cook Strait and becoming the oldest person in the world to do so at that time [she still holds the oldest female title].
"I am still the oldest person to swim the length of Lake Taupo. It would be an honour to become the oldest New Zealander to swim the English Channel."
Dickson believes she is better suited to long-distance swimming because of her endurance background that includes 15 ironman finishes and six 100km road runs. She enjoys the periods of solitude that swimming offered.
"Swimming doesn't come naturally to me - it takes me longer to get the improvements and that is part of the challenge that I love. I also love the water."
The State series is the ideal place to hone her competitive technique. She appreciates the work that the team puts in to make it successful.
"I spend so much time solo swimming so it is great to be able to race others in my age group and set my goals. They also have a non-wetsuit category for swimmers like me.
"It is awesome to rub shoulders with the elite swimmers, they are just like you and me - they put the work in and I admire that."
State NZ Ocean Swim Series event director Scott Rice has plenty of admiration for the hard work Dickson puts into her sport.
"This series is all about people giving it a go, regardless of age," said Rice.
"Pam is a wonderful role model, for not only her own grandkids but the whole community."
Dickson is well known at the Rotorua Aquatic Centre where she swims six days in big-mileage weeks.
"I go there twice a day. I also have a swimming flume at my home I use daily. I swim in the lakes down here in Rotorua a couple of times per week in the summer.
"I do most of my long swims in the lakes to get used to the cold water and the conditions."
She says the distance she swims varies but she will build up the mileage next year to a peak of 80km a week before heading to England.
She'll need that training as the distance of the swim from Dover to Calais is 35km. She can't wait.
"Hopefully I will inspire others and set an example to my 10 grandchildren."
What next for the grandma who never says die? "I will figure out my next goals when I finish this swim. I will always be in the water."
She recommends other older athletes find a way to improve, to achieve small goals and break it down. "Mix it up, keep setting new goals no matter how big or small. Believe in yourself. Get a coach to look at your technique and to help you improve.
"My coach is Scott Donaldson and he has helped me immensely."