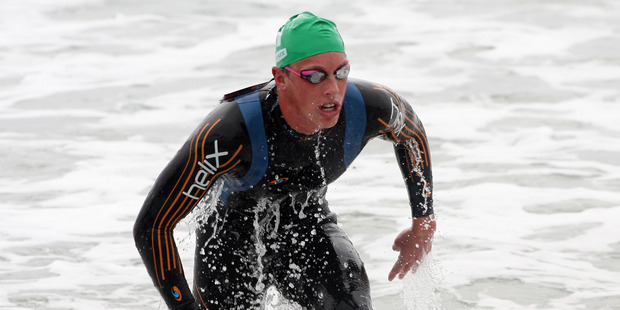 Even the best have to pick themselves up and start again.
Kane Radford is New Zealand's highest-ranked ocean swimmer and he confirmed that at the start of this year when he won the State Ocean Swim series.
He is returning to a happy hunting ground after missing the chance to compete at the London Olympics.
His dream of swimming at the summer sports showpiece ended in Portugal when the 21-year-old finished in 27th place in a 10km open-water qualifying race. He was 1min 44sec behind the eventual winner, Oussama Mellouli of Tunisia.
The Rotorua swimmer needed to finish in the top nine to qualify for the London Olympics.
"I was gutted not to swim at London," said Radford. "I'd trained four years for the event and not to make it was disheartening. But after taking a break to reassess things, I've decided to use the failure to qualify is a motivational tool to return to my best-ever form.
I am very determined to make the next Olympic Games."
Radford said he could hardly wait for the first race of the season.
"The State Paihia Classic will be a good gauge of where I'm at. I have only just got back into heavy training so I'm not at my peak yet, so this first race of the season will be a good marker for me."
If he gets back into a good headspace, there is no doubt that Radford will be the man to beat in the super-long event of the Ocean Swim Series.
Radford will be looking to claim the lion's share of the $20,000 prizemoney offered for the first time this year, which is likely to attract more elite athletes from Australia.
However the series is not only for elite athletes and this year there is added incentive for young swimmers to get involved.
The fastest age-group swimmers at each of the six State OceanKids events (boy and girl) will join the inaugural Jetstar Super Swim Squad. They will each win a once-in-a-lifetime experience - a weekend squad camp in Auckland with Olympic swimmers.
Kids from throughout New Zealand will gather next April to hone their swim skills under the guidance of some of the country's world-class swimmers and coaches.
Out-of-Auckland winners will receive flights and accommodation courtesy of Jetstar.
"We always get wonderful feedback from kids and their families on the State OceanKids events for ages 6 to 10, so we jumped at the chance to offer Kiwi kids the opportunity to vie for the opportunity to train with their Olympic heroes," said Scott Rice of the State Ocean Swim.
"This Jetstar initiative represents an incredible opportunity for young swimmers, as well as some fantastic family travel prizes for all State NZ Ocean Swim Series participants."