Lou Vincent switches from T20 to first class mode when he goes out to bat for Auckland tomorrow.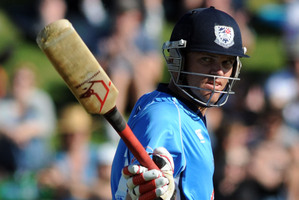 It has been a busy week for Lou Vincent.
The T20 troubadour, who has travelled the globe playing primarily the shortest form of the game, returns to first-class cricket tomorrow in Napier when Auckland start their Plunket Shield campaign against Central Districts. So he has had some technical work to do.
"I've developed a new shot this week - a leave outside off stump," he quipped. "It's quite an interesting feeling watching the ball go by."
Vincent played one first-class game for Sussex last year; six for Lancashire four years ago, but his last four-day cricket in New Zealand was in December 2006.
The former test opener made his first-class debut against Otago in March 1998, alongside another newbie, Andre Adams. If they remind Auckland's high performance coach Matt Horne of that, he'll probably offer the rejoinder that he took Auckland for 241 runs in that game, his highest first-class score.
Vincent turns 34 next Sunday, and starts his 94th first-class game tomorrow (10 centuries and an average of 35) and while the globetrotting has taken him places he'd once probably never imagined, he's happy back home and relishing a full season of shield cricket ahead.
"I'm living back in New Zealand, love my cricket and want to play so we'll see what happens," he said yesterday.
Vincent's test debut, at Perth in 2001, produced 104 and 54, one of four centurymakers in New Zealand's first innings. Only seven New Zealanders have made more in a test innings than his 224 against Sri Lanka in Wellington in 2005. He averaged 34.15 from 23 tests. Now age has brought wisdom and Vincent, a real batting entertainer, is up for a fresh challenge.
"You've got to be smart," he said of batting in the first-class game. "I've played enough cricket to have my style of batsmanship. You've got to play the conditions, and depending on the conditions is how you apply your game."
Auckland's four-day record of late hasn't been flash. They won the Plunket Shield in 2008-09 and have been fifth (or second last), a distant last and a competitive third since then. There's a desire to put that right this season. Vincent enjoys playing under captain Gareth Hopkins, whom he rates highly as a leader.
"He's one of the most inspiring players I've played under. He speaks well, leads from the front and plays with heart and passion," Vincent said.
Auckland also have former test wicketkeeper Reece Young back this season after a stint in Canterbury. They'll reflect on the statistics from last season, suggesting they need more heavyweight individual performers.
Only Colin de Grandhomme (eighth with 631 runs at 70.11) and Hopkins (19th with 523 at 47.54) were among the top 20 runmakers in the shield. Wellington had five in the top 20, Northern Districts and champions Canterbury four.
Left arm spinner Bruce Martin (37 wickets at 37) trailed only Otago left armer Neil Wagner among wicket takers; Mitchell McClenaghan (21 at 28.7) and Michael Bates (18 at 25.16) were also in the top 20.
"We have the players and on paper we're very happy with way things have built up," coach Paul Strang said. "It is a long season and because it's obviously in two halves [there's a break from December 20 to January 24] a lot can happen from the first half to the second."
• In the weekend's other shield game, Northern Districts host Otago at Seddon Park, also starting tomorrow.
CD v Auckland
Plunket Shield, Napier, 10.30am tomorrow
CD: Kieran Noema-Barnett (c), Jamie How, Jeet Raval, Carl Cachopa, Mathew Sinclair, Kruger van Wyk, Doug Bracewell, Will Young, Andrew Lamb, Tarun Nethula, Andrew Mathieson, Ben Wheeler.
Auckland: Gareth Hopkins (c), Tim McIntosh, Lou Vincent, Reece Young, Anaru Kitchen, Colin de Grandhomme, Colin Munro, Bhupinder Singh, Bruce Martin, Michael Bates, Mitchell McClenaghan, Chris Martin.