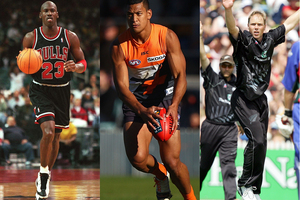 The art of switching sporting codes for the modern day professional can be a tricky business.
Many have tried, few have succeeded and the overwhelming majority have failed.
Yesterday, Great Western Sydney AFL player Israel Folau became the latest superstar to opt for a code change, after declaring time on his Australian Rules career with an eye to link up with the NRL once again, or possibly rugby union.
The former NRL star had a tough time of things in the AFL, and thinks - as many have before him - that the grass looks greener on the other-side.
Success and failure in the dark-art of code hopping can be a tricky one to predict, but should Folau recapture the form that saw him become the youngest player to ever play for the Kangaroos - he would likely jump from our 'bad convert' list, into our 'good'.
Here are our top three in each.
Bad
Michael Jordan
In the fall of 1993, Michael Jordan - often regarded as the greatest player ever to shoot a basketball - shocked the sports world by announcing he was retiring from the NBA. Then he stunned fans again by deciding to pursue his long-held dream of playing pro baseball.
Jordan's move was such a shock because his athletic prowess was at its peak. His Chicago Bulls had racked up three straight NBA championships and during the 1993 finals he scored 40 or more points in four consecutive games.
Jordan went 0-3 in his professional baseball debut and finished the 1994 minor-league season batting .202 with 114 strikeouts in 436 at-bats for the Birmingham Barons.
After his relatively unsuccessful season playing baseball, Jordan decided to return to the NBA. Jordan issued a press release on March 18, 1995, that stated simply, "I'm back," and returned to the Chicago Bulls the next day.
Israel Folau
Folau was just 17 years old when he made his debut in the 2007 NRL season for the Melbourne Storm. He went on to break the record for the most tries in a debut year, before signing with the Broncos where he went on to earn Kangaroos and Queensland fame - becoming the youngest player to play for both teams.
Then in 2010 - as his contract with the Broncos was due to expire - a three way bidding war between rugby league, rugby union and Australian Rules broke out, which was eventually won by Great Western Sydney in the AFL estimated to be worth up to 6 million dollars over four years.
After two years and minimal on-field impact with the club Folau announced on Thursday that he was quitting GWS and has been linked with a move back to NRL or rugby union.
Jeff Wilson
Wilson achieved the rare feat of playing for New Zealand in both cricket and rugby during his 13 year professional sporting career.
With 44 tries from 60 tests with the All Blacks, he currently sits as the 9th-highest try scorer in Rugby Union history, however his Black Caps record was not so impressive.
After playing a handful of one day internationals against Australia, the Super 12 rugby competition arrived - which overlapped the cricket season by more than six weeks - forcing him to decide early on which international career to pursue, ending his cricket career.
After his retirement from rugby, Wilson was again selected for the Black Caps to play a series of one day matches against a World XI in January. Soon after Wilson retired from cricket at the end of the 2005 season due to persistent injury.
Wilson's Black Cap career statistics were not particularly impressive (103 runs at an average of 20.60 and a strike rate of 92 for batting, and 4 wickets at an economy rate of 6.44 runs per over in bowling) and he will forever be known as an All Black great, who could bat and bowl.
Good
Brad Thorn
Thorn is the most successful league to rugby convert of all time. The fact he made the switch twice, is mind-scrambling.
His legacy in both codes is enormous and he collected a final trinket this year that gives him a set of medals no one else is ever likely to match.
Drafted to Leinster on a short-term contract this year, he helped them win the Heineken Cup, to add to his Super Rugby title of 2008 and World Cup medal won last year. Between 2008 and 2011 - Thorn was one of, if not the best tight lock in world rugby.
But ask anyone in Brisbane about Thorn and they will go misty-eyed and rate him one of the best ever produced by the Broncos - a side that he helped to two NRL Premiership titles.
Sonny-Bill Williams
Having won an NRL premiership with the Bulldogs in 2004, SBW controversially left his rugby league club halfway through the 2008 season to play rugby union with French club Toulon. Then in 2010 Williams signed with the NZ Rugby Union and won a Rugby World Cup, Bledisloe Cup and a Super 15 title with the Chiefs.
SBW also threw some boxing in for good measure, and has had five wins from his five heavyweight bouts and is currently the New Zealand Professional Boxing Association Heavyweight Champion.
Jason Robinson
Jason Robinson wasn't as good at Union as he was at League-he was better.
Robinson made the leap from rugby league, where he made his name as a devastating game-breaker, into rugby union in 2000, and it didn't take him long to make an impact in his new code.
He was no stranger to glory during his career, scoring a try in the final as England lifted the Rugby World Cup in 2003 and helping Sale to the Guinness Premiership title in 2006.
During his rugby league career he had excelled for Wigan as they reigned supreme over the Super League, and represented both Great Britain and England.
Following the 2003 World Cup he briefly captained England while Jonny Wilkinson was out injured, but announced his retirement from international rugby following the 2005 Lions tour to New Zealand, where he won two further Test caps.
He was eventually coaxed out of retirement by England coach Brian Ashton ahead of the 2007 Six Nations, and his added experience helped England to the Rugby World Cup Final in 2007. His playing career ended for a second time following England loss to South Africa in the showpiece event but he returned to the field for a final time to help the Barbarians defeat South Africa at Twickenham in December 2007.