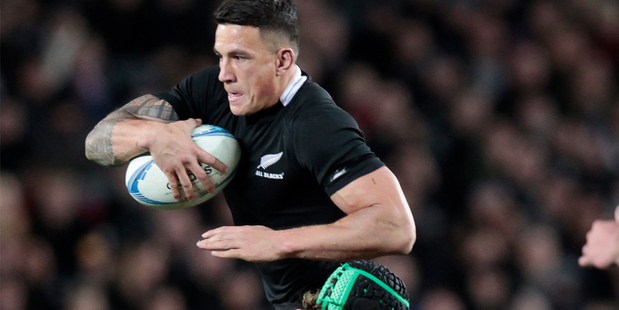 Former All Black Sonny Bill Williams admits it was a "massive decision'' to walk away from being involved with the team's end of year tour as the side departed for Europe last night.
Williams was part of the last All Blacks team to tour Europe, in 2010, and the second five-eighths made his debut against England.
Just 22 months later, they left in the wake of his departure.
There was no doubt Williams left a huge impact on New Zealand rugby during his two-year stint and 19-test All Black career - one which he freely admits cost him money to pursue.
"I could have just stayed in France, earned some pretty big money, some really big coin, but I went back to New Zealand for a lot less money and I put myself out there but I'm glad that I came up trumps in the end,'' Williams told Total Rugby Radio.
He arrived to a lot of critics expecting the former Kiwis international to fail. He left as a World Cup, Super 15 and ITM Cup champion.
The reliable combination of Ma'a Nonu and Conrad Smith have slotted back into the All Blacks midfield since Williams' departure and the side have continued their unbeaten run without him.
The All Blacks face England on December 2 in the final match of their European tour, one that could possibly decide whether they finish 2012 unbeaten. The side's last visit to Twickenham capped off an amazing 12 months for Williams, which saw him fast-tracked into the All Blacks.
He says being on tour with the All Blacks was the the first time he'd ever seen them live.
He came close to witnessing his future teammates in action the season beforehand - but a forgetful teammate robbed him of the experience.
"It was all pretty surreal playing for the All Blacks for the first time, against England in Twickenham,'' he says. "It seems that long ago that I can hardly remember it but the biggest thing that stands out for me was running out there and thinking, 'I'm doing it'.
"It didn't seem that long before that that I was standing outside Marseille Stadium with some of my Toulon mates and I remember not being able to get into watch the All Blacks vs France game because Fotu Auelua, our No 8 for Toulon, forgot the tickets to get in. So I remember that was exactly what I was thinking when I was running out onto the field because I'd never been to see an All Blacks [match] live or anything before that.''
Less than two years later, he was playing his 19th and final test for the All Blacks - a 22-0 victory over Australia before beginning a lucrative 12-game contract for Japanese side Panasonic Wild Knights.
Williams says he's been impressed by the devotion of his Japanese teammates.
"The biggest thing that has stuck out for me since arriving is just the dedication that everyone has for their rugby to improve as players. And that's what I'm always trying to do. For me, it's just about putting myself in an environment where I can just challenge myself.
"I've been doing this since I was 17 and I'm 27 now so just putting myself in that situation where I know that it's going to get me up in the morning. Can it get me to train hard, work hard and keep that desire, that fire going to be a better player? I think once you lose that, then you might as well just go sit on the beach somewhere because you're not going to improve and you're performances on the field are going to go downhill.''
Williams' future has always been a hot topic and it's still something that is uncertain.
He's yet to announce his expected signing with NRL club the Roosters and a recent pectoral injury has put both his immediate future in Japan and in the boxing ring in doubt.
He arrived in Sydney this week to undergo surgery which led to the postponement of his November 24 heavyweight fight against South African veteran Francois Botha.
Having won his first five bouts, and the New Zealand heavyweight title to boot, Williams says boxing is a big part of his future.
"Definitely serious about my boxing long-term. At the moment it's a bit of a juggling act. When I first took it up I thought there was no way I can do this, it's just too hard. But then I reflected on my whole transition through rugby and that was exactly the same feeling I had when I came to the 15-man code, that I just wasn't up to it. But then with a lot of hard work and perseverance I started getting the hang of it and I guess that's kind of the same in a boxing sense.
"In the future I'd love to maybe have a go at it for a couple of years and just see where I am. But I guess that's down the track.''
For a man who is so keen to stand face-to-face against heavyweight boxers, Williams admits how scared he was during the Christchurch earthquakes.
"That was a pretty tough time. I think the first one was in the early hours of the morning and I just got into the foetal position in my bed put my legs in the air and I thought my whole roof was coming down it was pretty scary.
"I remember the second earthquake, the big earthquake, it was like being in a scene of the movies just walking down the main street in town and then it was just chaos everywhere, people running across, blood all over their face. Things like that you'll never forget.''
- nzherald.co.nz