New Zealanders want to go out on a high in their final test against the Diamonds.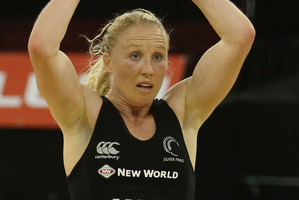 The success of the Silver Ferns' season rests on their final test outing of the year against Australia tonight.
Regardless of the result in Hamilton, the Diamonds have the Quad Series wrapped up heading into the finale having amassed a 50-goal buffer in goal differential over the earlier rounds of the tournament.
But it is far from a dead rubber from the Silver Ferns' perspective as they seek to atone for their humiliating 20-goal loss to Australia in Sydney a week and a half ago.
After opening the international season with a historic series win over Australia, the Ferns have taken a slide backwards during the Quad Series, with the team struggling for consistency when new combinations have been introduced.
The Ferns' mid-season wobbles will be largely forgotten if they finish off with a convincing performance against the Diamonds.
Silver Ferns vice-captain Laura Langman said after their mixed year, the team are determined to demonstrate they have still made gains.
"There's a lot riding on this game, it's a huge game," she said.
"We've got individual targets and team targets that we want to achieve this season and this game will mean we've either achieved them or we haven't.
"So that's massive in terms of the big picture stuff and building our base towards 2015."
Langman has had her mind on another big test this week, with the midcourt workhorse yesterday sitting her last financial accounting exam as part of her postgraduate studies. Following next week's Fast5 World Series in Auckland, Langman will join the "real world", taking up a job at Deloittes.
Langman said she didn't want to spend her first few weeks of her new career stewing over a poor finish to the netball season.
She said a win tonight was crucial to building confidence and momentum heading into next season.
"Confidence is something that can be really elusive - it comes in gallons when you win, but will disappear in gallons when you lose, so it would make for a very uncomfortable summer if we were to come away with another horrendous loss," she said.
"We've really worked hard over the past few days, we've been straight up with one another, and I think that's possibly what we needed."
There will be added motivation with the Hamilton test likely to mark Leana de Bruin's 100th international appearance. If the athletic defender gets a run tonight it will be her 66th outing for New Zealand, on top of the 34 tests she played for South Africa.
With several strong options in her defensive end, Silver Ferns coach Waimarama Taumaunu is keen to ensure the Australian attack do not get comfortable.
The Ferns were extremely disappointed with their defensive performance in their 68-48 loss the Diamonds in Sydney, with Australia racking up a record score against New Zealand. Langman said her side had been working on their full-court pressure.
"We were really disappointed with the ease at which Australia were able to move the ball around, so we've made a really concerted effort to tighten up on that. So it will be interesting [tonight] because I think we've done really well with this."
Taumaunu believes her side's preparation has been much more focused than it was in the lead-up to Sydney.
"We were trying things in Australia, and I think in hindsight our focus was on each game, whereas this is about building and I'm happier that that building process is looking more consistent than it was in [the Australian leg of the series]," she said.
Quad Series: leg 6
Tonight, Claudelands Events Centre, Hamilton
6.15pm England v South Africa
8.25pm Silver Ferns v Australia.