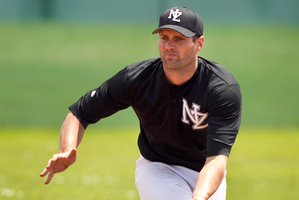 The ice pack strapped to Scott Campbell's left thigh as he slumps against the wall of the Pakuranga rugby club's changing rooms will become a familiar companion over the next month.
New Zealand's best baseballer will need it to help keep the pain at bay as he pushes his body where he knows only too well it struggles to go.
Campbell found out the hard way his body simply can't take the rigours of day-in, day-out baseball.
Having taken him to within spitting distance of becoming this country's first major leaguer, it failed him at the final hurdle.
Drafted by the Blue Jays in 2006 after a stellar college career with Gonzaga, Campbell scorched through the minor leagues.
After two and a half seasons feasting on lower level pitching he was selected for the 2008 MLB All Star Futures game - the annual contest that showcases baseball's best emerging talent.
The starting infield for the international team at Yankee Stadium that year was Pablo Sandoval, who hit three home runs for the Giants in the opening game of the just completed World Series; current Angels short stop and two-time All Star Elvis Andrus; Ivan De Jesus, who made his Major League debut last year for the Dodgers and is now with the Red Sox - and Campbell.
Not hard to spot the tough luck story there. While his contemporaries kicked on, Campbell's dream quickly hit the skids.
Troubled by pain in his hip, he initially tried to battle through. But his performance declined and he eventually hit the DL [disabled list].
After a couple of aborted comebacks he sat out the entire 2010 season. Then he broke down in spring training, missing all of 2011. After two years of surgeries and failed rehabilitations, he accepted the game was up.
Like Travis Wilson before him - who toiled for eight years in the minors without breaking through - Campbell was destined to be an oh-so-close story.
He announced his retirement in March.
"I knew I was making the right decision," he says.
Like Wilson, Campbell likely came within a phone call of a call up to the Bigs. Coming so close to realising his dream doesn't eat at him, he insists.
"At the end of the day the only thing that matters to me is that I know I could have played at that level, competed and been a good player. But there are lots of guys who never had that opportunity and could have done the same thing. It's frustrating but I've got to be happy with everything I did leading up to that point. It is what it is now."
The chance to play a key role in the birth of this country's national baseball team is certainly some consolation. He's had a cortisone shot and believes he can get through the rigours of a six-game build-up tour of Australia and a four-match tournament in Taiwan.
"I know there are going to be some rough days ahead but that's okay," he says.
"Having this opportunity to get out there and perform for my country is kind of special. It may be my last chance. Who knows what the hip is going to do over the next couple of years. I'm looking forward to it. It's going to be a good ride."
How successfully Campbell and fellow Major League prospects Boss Moanaroa and Daniel Devonshire can patrol the infield will be crucial to the Diamond Blacks' chances. The Asian teams they will play won't possess huge power, but will put the ball in play and place huge pressure on the infield.
While Campbell's shot at the big time has passed, it is simply a matter of time until a Kiwi breaks through, he says.
"A lot of guys in the minor leagues are good enough to play at Major League level. It's just when the timing is right. I know it is going to happen. We've got a lot of good players here and a handful of them at least would be able to play at the Major League level."
If they are good enough they will certainly get spotted at the Classic, says Diamond Blacks manager Andy Skeels - the first New Zealand-born player to be drafted by a Major League club when he was signed by by the San Diego Padres in 1987.
"I don't care where you are on this planet, if you can play, Major League Baseball wants to see you," Skeels says.
"And the World Baseball Classic is 'pull the curtains back and let's see what's been hiding there all these years'. [Our players] are going to get a chance to be looked at by scouts from every single major league organisation. It is a huge, huge opportunity for these kids."
Tomorrow
In tomorrow's final instalment of this series we look at the dysfunctional relationship between baseball and softball, sports with numerous similarities but seemingly irreconcilable differences.