Webster eyes 2013 Maadi Cup success while Brake sets his sights on continuing international rowing career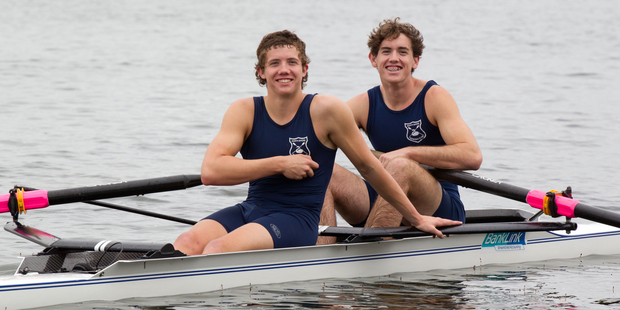 Being born the right side of the January 1 deadline has been a big plus for Cameron Webster and Westlake's 2013 Maadi Cup bid.
On the other side of the equation, his good mate and fellow junior world championship gold medallist Michael Brake dips out and will not be back for the next school year.
Brake, who followed his father into the sport and these days is under the watchful eye of, among others, Olympic boss Mike Stanley, said because he had already turned 18 he would be ineligible to row for the school next year even if he did return.
Understandably, schoolwork has been a bit of a squeeze for the pair this year as they spent a couple of months based in Cambridge preparing for the world championships in Bulgaria and a month in Europe in finalising preparations.
"For the first two or three weeks it was a bit of shock but once we settled in it was okay," said Webster, who turns 18 in late January.
"We stayed with Michael's aunt in Cambridge to save costs but we spent a lot of time with the rest of the rowers who stayed in the Rob Waddell Lodge at Karapiro.
"School-wise we did a lot by correspondence and were able to go to St Peter's School and use their library, which helped. Training was full-on but in the end when we won the world championship it was worth it."
The WBHS duo filled the two and three seats in the coxed four who beat Germany and Serbia at the regatta in Bulgaria to claim the junior world coxed four title.
Their selection in the squad and ultimately the crew was largely based on their results in crucial ergometer testing where they showed out. They were within 2 secs of each other at a discipline which is seen as crucial.
"I hate it [the erg] but I'm good at it," said Webster, who will return to the school next year to spearhead their Maadi Cup bid. It was their efforts at this year's Maadi Cup regatta which ultimately led to their selection in the national squad. "We will have a chance but Auckland Grammar and Christ's College will be right there as the crews to beat.
Brake said they were comfortable competing in the coxed four, although much of their school rowing centred on the eight.
"Generally you learn in an eight as you are less likely to flip," said Brake. "In the Westlake eight I have generally been in the six seat and in the four at three."
Webster will have two papers to concentrate on next year after dropping two as rowing took over.
His sport takes up a fair amount of his time with 11 training sessions a week which can mean up to 100km a week on the water, much of it in the upper reaches of the Waitemata Harbour between the Chelsea Sugar Refinery and Herald Island.
Brake said his sights were set on continuing his international rowing but the 2016 Olympics might be too soon if he was to fulfil that ambition.
"I will only be 21 then and with rowers not usually reaching their peak until they are 25-26 the 2020 Olympics might be more realistic."
The pair's rivalry extends to the annual ASB Sportsperson of the Year awards with both announced as finalists in the rowing category, with Joel Bateman (AGS).