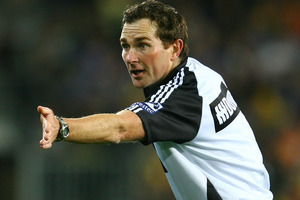 Referee Glen Jackson has defended his decision to not award Auckland a penalty try in Saturday night's ITM Cup final - but he admits Auckland coach Wayne Pivac has a point.
Following his side's 38-18 loss to Canterbury, Pivac told reporters Jackson's decision to penalise and sin bin Canterbury wing Telusa Veainu, instead of awarding Auckland a try under the posts, changed the landscape of the match.
Auckland were 13-10 ahead when Veainu's deliberate knock-on prevented a certain try and ensured his side, instead of falling further behind, were able to snatch a halftime lead.
Jackson told Radio Sport this morning he could empathise with Pivac's point of view but said, without the aid of replay, he was uncertain whether Veainu's touch was decisive.
"I think Wayne's definitely got a reason to bring that up," Jackson said.
"I have had a look at it and I think there was one guy coming across but, three on one, 20 metres out - and that's the beauty of the replay - he's probably got a good argument there.
"I didn't actually know who was behind in terms of cover, and that would have made the biggest difference. Five metres out, you can see that quite clearly."
Jackson explained the advice he received from touch judge Mike Fraser indicated Veainu had merely knocked on the ball, while he confirmed he would have utilised the TMO had that option been available to him - a rule he said may change by next year.
The former Chiefs first-five has been a referee for only two years, but he denied his inexperience saw him shirk from making the big call.
"You could ask me in five years' time and I might have a different answer, but I certainly don't think the two years I've been reffing is [the reason] I didn't go to a penalty try.
"In live time, I could have just gone with a knock-on, so I was happy that I got to that decision, that it wasn't just a knock-on, it was actually a penalty and a sin bin."
Jackson also explained the other contentious call to earn Auckland's ire, when Andy Ellis cleared the ball from a ruck when Jackson was heard to warn the Canterbury halfback against such a move.
Ellis was allowed to play on, though, and his subsequent burst down field gave Canterbury advantageous field position from which they eventually scored a try.
"Andy was never in an illegal position to play," Jackson said. "At the time, the ball was still in the ruck. And when I said no, he didn't go, then the ball actually came clear.
"It is disappointing that it's come up that I said no, but Andy had all rights to carry on and do what he did. Hence why, when he did actually play at the ball, we played on."
Despite the main areas of controversy going in the home side's favour, Jackson still heard some boos from the Canterbury crowd at the end of the match, something he laughed off.
"It's obviously part of rugby, especially in New Zealand, that referees get a bit of a hard time. It's disappointing but, unfortunately, all part of the job, really."
- APNZ