Clash between old rivals close enough to show season will be business as usual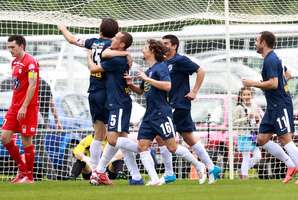 Waitakere United 2
Auckland City 1

First blood to Waitakere United but they and Auckland City showed enough in the season-opening Charity Cup clash to suggest it will be business as usual for the long-time rivals in the 2012-13 premiership.
A goal down after just seven minutes and still trailing at the break, Waitakere hit back to score in the first and last minutes of the second half to claim the trophy City had won - also at Fred Taylor Park - a year ago.
Waitakere's equaliser, 42 seconds into the second half, was out of the "truly bizarre" basket.
It hit hard for the City players, who had dominated for long periods in the first half after captain Ivan Vicelich had scored from a well-directed Jason Hicks freekick - one of several conceded in those opening minutes with new United signing George Slefendorfas too often the culprit.
Hicks, one of a handful of new players on City's books, showed out as a better-than-average acquisition for the Fifa Club World Cup-bound side and turned in a useful 60 minutes before coach Ramon Tribulietx called him in as tired.
The hit-back goal by the home side came when Allan Pearce fired a cross beyond the far post of the City goal.
City custodian Jacob Spoonley gathered, rolled the ball forward but when he let fly with his clearing kick he could only look on helplessly as the ball hit Slefendorfas and looped back into the unprotected goal.
The game then tightened, with referee Nick Waldron dishing out six yellow cards - three to each team.
Substitute Adam Dickinson and Manuel Exposito had good chances but Waitakere goalkeeper Danny Robinson was equal to the challenge while Albert Riera, who turned in a solid 90 minutes, was high with another attempt.
The winning goal, in the last minute, was a simple far post tap-in by substitute Maksim Manko after a good long ball in from Pearce.
New Waitakere coach Paul Marshall was over the moon with his first-up success.
"In the first half they edged us in possession but I feel we defended very well," said Marshall. "But, as I told the players at halftime, that was not good enough. After that we got better and better. It was a great start."
Tribulietx was understandably disappointed. "In the first half we dominated but could not turn that into goals.
"In the second we had to come and compete and we couldn't match them. We panicked a bit after they scored that crazy goal but we still had our chances."
Both teams open their ASB Premiership campaigns with home games this weekend.