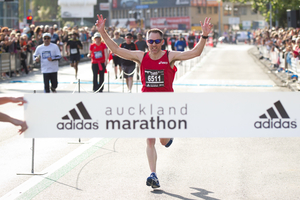 The loneliness of the long distance runner applied to Australian Rowan Walker as he led a path of his own in yesterday's Auckland Marathon.
The 42-year-old led from almost start to finish, asserting his authority on the climb out of Devonport and never letting it go as the marathon wound its way over the harbour and out to St Heliers before finishing back in the city at Victoria Park.
With a personal best of 2h 18m 1s, Walker was pleased with his winning time of 2h 24m 6s, finishing five minutes ahead of 2003 winner Scott Winton.
"There are days you have where you go for a fast time and there are days where you go for a high place and today was a day I went for a high place. I wasn't too concerned about the time, so I'm happy with that and how it worked out," said Walker.
He ran at a consistent pace throughout, cutting out each 5km in 17 minutes.
"There were a few rolling hills early on and I got a bit of a gap and then I just rolled with it and settled into a rhythm," he said.
"I was lucky enough to see at that far turnaround that Scott was a fair way behind and I didn't have to push it too hard to stay in front."
Winton, who ran in second for most of the journey, said he had limited training coming into the race.
"It's hard running by yourself the whole way. I originally entered the half marathon but I thought earlier this week that I had a chance of a top five placing in the marathon so switched," he said.
The New Zealand championship for registered runners was based on the adidas-sponsored race. Unfortunately, Winton has not registered with a club this year, so was ineligible for the national title.
In only his second marathon, Tony Payne, 23, captured his first national title, finishing third in 2h 31m 7s.
The Aucklander had a great battle for third place with Nelson's Graeme Taylor, nearly 20 years his senior. "I started to struggle in the second half and Graeme caught me, but I managed to pull away in the last 3km," Payne said.
"I only decided to do this one on Saturday and just gave it a crack and I'm pretty happy with the result - my first senior title, I'm rapt."
Taylor was full of praise for Payne's effort.
"He had a good run. He's a great marathon runner for the future."

Men's Marathon
1st: Rowan Walker (Australia) 2h 24m 6s
2nd: Scott Winton (Auckland) 2h 29m 18s
3rd: Tony Payne (Auckland) 2h 31m 7s