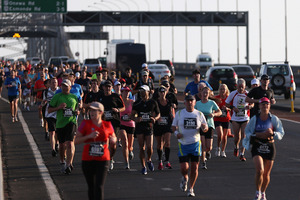 Tens of thousands of people turned up for the Auckland marathon today, with the perfect weather making it ideal for spectators but tough-going for runners.
About 45,000 people lined the track and the finish at Victoria Park, and some 16,000 people participated in the day's events.
Race director Richard Lindroos said about 140 people had been treated by ambulance staff, mostly for minor bumps, scrapes and dehydration.
"It was getting a wee bit hot as the back of the field was coming in,'' he said.
In the women's full marathon, Alexandra Williams, of Christchurch, won in a new course record of just over 2hr 45m, although this is still to be confirmed.
Rowan Walker, of Australia, won the men's event with a finishing time of just over 2h and 24 minutes.
In the women's half marathon, Aucklander Lisa Robertson finished first and Edwin Kaitany, of Kenya, won in the men's event.
As well as the two main marathons, about 1500 children participated in a 2km run. The quarter marathon and 5km marathon also attracted large numbers of participants, Mr Lindroos said.
"It's been a really great day for Auckland and we've been blessed with great weather.''
The marathon resulted in numerous road closures around the central city and North Shore, including Tamaki Drive and two lanes of the Harbour Bridge.
Mr Lindroos said there had been no major traffic incidents.
"Aucklanders have got used to this annual event - it's been held since 1936 and it's an iconic event on the calender. In general people are quite well behaved out there.''
- APNZ