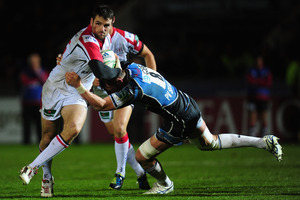 The problem with being a young, under-populated nation in the far reaches of the Pacific Ocean, is that not everyone is keen to stay - and plenty of New Zealanders have the dual heritage required to set up a sporting career elsewhere.
In the case of professional rugby, it's long been the case that those who can't make the All Blacks will look through the family lineage and head to Maesteg, Melrose or Munster - wherever they might be able to settle, impress and win test caps.
Rugby is a career, players are commodities, and if they can export themselves and play on the international stage, then they will.
All Black coach Steve Hansen went on the offensive after the draw in Brisbane. The 15 Wallaby points collected by New Zealand-born, raised and developed Mike Harris was hard for Hansen to stomach.
"I am pleased he [Harris] has achieved his dream ... what I find frustrating is that Australia is trying to build their game and put more franchises in place but all they are doing is putting franchises in place and stealing our players," fumed Hansen.
"They should get their own house in order and develop their own."
Hansen may as well have complained about the sun shining; there is a global demand for good players and many a nation with a compromised supply chain. Cash-rich, resource-poor nations don't starve - they import. Australia, England and all the others who have welcomed New Zealand-reared talent into their national teams are guilty of nothing but applying common sense.
Yet, for all the futility of his complaint, it's easy to feel for Hansen. The pool of talent available to him is shrinking and his main rivals are benefitting from the excellent development system New Zealand spends big on.
But the focus of this ire needs to be shifted away from those dual-qualified players who are out of luck here but in demand elsewhere. The real issue is the increasing trend for players genuinely in the All Black frame to be lured offshore with the future promise of test caps for countries they are not yet qualified for.
Michael Paterson, Daniel Bowden and Jared Payne are three such examples. The former two will respectively become eligible for Wales and England through residency next year. Both were All Black contenders in 2010 but were convinced they'd earn more money and have longer test careers if they respectively joined Cardiff and London Irish. Payne struck a similar deal with Ulster and he'll be eligible for Ireland in 2014.
It's one thing to have a 'foreign' passport, a genuine blood link to another nation. It's another again to basically be sold a club and country package. The Exiles XV selected on these pages is predominantly of New Zealand players, not quite up to it here, using their heritage to make it offshore.
In time, it may be dominated by players eligible only through residency and maybe that's the point Hansen should have been making.