Steve Hansen's musings on Australia "stealing" New Zealand rugby players led Gregor Paul to compose his Exiles XV - New Zealanders who have left the country to pursue international careers elsewhere, as did the Wallabies' Mike Harris.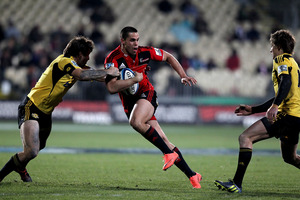 15 Sean Maitland (Scotland)**
The former Crusader has been on Scotland's radar for two years - and they finally gained his signature this week. Maitland will play for Glasgow but is expected to be fast-tracked into the Scotland team. It's not inconceivable he'll be selected to play against the All Blacks on November 11 - already qualifying for Scotland through his grandfather. Still only 24, Maitland was being touted as an outside bet to make the All Blacks in 2010 and 2011.
14 James Paterson (United States)
Made the Christchurch Boys' High School 1st XV before his family relocated to the US. He returned to New Zealand where he played for the Crusaders and Highlanders. Powerful and direct, he caught the eye in his debut season in 2006 but decided to commit to the US and was part of the Eagles team at the 2011 World Cup.
13 Daniel Bowden (England)*
A talented first or second-five, Daniel Bowden achieved the rare feat of playing four seasons in the Auckland Grammar 1st XV. He joined the Crusaders in 2010 and established himself as a potential test player. He was in the frame for an All Black call-up but instead headed to England. He was persuaded to stay last year and gain residency (due midway through next year) - despite having offers to return to Super Rugby. "I could play for England," he said after joining Leicester this year. "It's in the back of my mind. It was a big commitment for me to to sign here and stay for a two-year period. I know it is an option and, if it happens, it happens."
12 Mike Harris (Australia)
Head boy at Westlake Boys', a member of the New Zealand secondary schools team and also the New Zealand under-20 side that won the world championship in 2008, Harris was also eligible to play for Australia through his grandmother. When rejected by the Blues in 2011, he was picked up by the Reds, played well enough to interest Robbie Deans and made his debut this year against Scotland. "I guess that's just the world getting smaller," he said after being picked. "It's a lot easier to travel around the world these days and it's the nature of professional sport as well, just because you're born in a country doesn't mean you're there for life."
11 Digby Ioane (Australia)
New Zealand's claim on Digby Ioane is a little tenuous, as while he was born here, he emigrated with his family when he was five. Still, run through the Wallaby team and he's another born in New Zealand, adding to the perception of some that they are poachers of Kiwi talent.
10 Quade Cooper (Australia)
All his antics with Richie McCaw have carried greater resonance because he is viewed as a Kiwi who defected. Born and raised in Tokoroa, he shifted to Australia when he was 15; he chose the Wallabies despite overtures from the NZRU to come home in his late teens and commit to the All Blacks.
9 Isaac Boss (Ireland)
A solid but limited operator for the Chiefs, Isaac Boss headed to Ulster in 2005. He was eligible for Ireland through a grandmother and his aggressive game appealed to the national selectors who gave him his first start in 2006. He joined Heineken Cup winners Leinster in 2010 and is still in the frame to add to his 15 caps.
8 Thomas Waldrom (England)
A bustling loose forward who was a bit of a cult hero in New Zealand, Waldrom could never quite command a Super Rugby starting place. He joined Leicester in 2010, where he discovered he was eligible to play for England. He made his debut earlier this year and is now in the elite player squad - in the frame to play for England at the next World Cup.
7 Michael Leitch (Japan)
He's not well known in his home country, because Michael Leitch left for Japan eight years ago when he was still at St Bede's in Christchurch. "An opportunity for me to study over there came when I was in the fifth form and I've been there ever since," said Leitch at the World Cup. Clever and astute, he's viewed as the probable captain of Japan at the next World Cup.
6 Michael Paterson (Wales)*
A versatile lock-cum-blindside, Michael Paterson shot into All Black contention in 2010 when he joined the Hurricanes. He was in the frame until he announced in May that he had signed with Cardiff - who lured him with a decent pay cheque and a longer-term plan to use him internationally. He will be eligible through residency midway through next year. "If an international call-up arises, I think I would take it with both hands," he said last month. "But there is a long way to go, a lot of water to run under the bridge until then."
5 Toby Lynn (Australia)**
An energetic lock who played with aggression and presence, Toby Lynn was let go by the Chiefs so joined the Western Force this year. He is qualified for Australia through a grand-parent and, with the Wallabies so short of quality in their tight five, it probably won't be long before Lynn is given a chance to prove himself.
4 Josh Sole (Italy)
Another former Waikato product, this athletic lock/loose forward impressed with his ball-carrying and mobility. Qualified to play for Italy, he headed there in 2004 and won his first cap the following year. He's gone on to win 47 in total and has been a key member of the Italian side for the last seven years.
3 Sekope Kepu (Australia)
Educated at Wesley College, Sekope Kepu was a bruising No8 and made the New Zealand under-19 side. It was there that he was persuaded by current All Blacks forwards coach Mike Cron to switch to loosehead prop. He graduated to play for Counties Manukau in 2008 where he was spotted and then signed by the Waratahs on account of him also having an Australian passport. Before playing the All Blacks at Eden Park last year, Kepu said: "Growing up in New Zealand, you dream of being an All Black. If I get selected to play against them, it would be massive, but to play them at a ground so special as Eden Park would be massive."
2 Dylan Hartley (England)
Born in Rotorua, Dylan Hartley's English mother took him back to her homeland when he was 16. He made an immediate impression, playing for England Schools and then graduating to the national team in 2008. He is now a critical member of England's leadership group.
1 Michael Bent (Ireland)**
The Taranaki prop has just arrived in Ireland where he will play for Leinster. Already qualified, the Irish province brought him over with help from the Irish Rugby Union to help bolster their front-row stocks. There was speculation he would be in the squad for the November tests, but he said before leaving last week: "They are not saying that is going to happen, I've just to get over there and play a bit of footy for Leinster first before they can even look at me. It does sound pretty positive but obviously I've got to prove myself first before they can look at me seriously."
Key:
* not yet eligible
** eligible but not yet capped