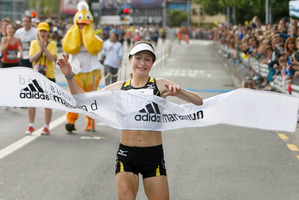 For Shireen Crumpton the Auckland Marathon is more than just a race.
It is a time to reflect, remember and honour her husband Doug, who died four years ago on race day.
The Otago Marathon runner is one of the favourites to claim the women's title in the 42.2km adidas-sponsored race, but you get the feeling it doesn't really matter if she wins.
The fact that the 42-year-old holds down a full-time job as a nurse in the post-anaesthetic care unit, looks after her 5-year-old son, Lachlan, and manages to fit in enough training for a marathon is a super-human effort in its own right.
Her life has changed dramatically in the past four years.
"I don't think I fully appreciated life until I was faced with Doug's cancer diagnosis and death," Crumpton says.
"I now appreciate all the little things in life and, hopefully, I'm a better person for it.
"It takes a long time to remember the happier times and I am now finally remembering them rather than all the awful pain and suffering he had to endure."
In 2006, the Crumpton's lives changed forever as they found he had cancer.
"I felt like my whole world suddenly came caving in." Doug died two years after the diagnosis.
"I think when something like this happens you go through a period of questioning: 'Why me? What did I do to deserve this?' ... However, bad things happen and they can probe you to develop a deeper understanding of life and self.
"I hope I have become a better person because of this. I certainly don't take anything for granted."
There has been a lot of tragedy to take nothing for granted.
Crumpton gave up running while pregnant as a scan at 12 weeks showed that she was to have twins but that one had died. And her brother-in-law died while climbing Mt Aspiring .
Running was and still is the ultimate outlet of frustration for Crumpton. She loves the freedom of running and the heartbreaking experiences she has endured have renewed her perspective on life.
"Unfortunately, often it is not until we are faced with a life-death situation that we fully understand and appreciate the meaning of life.
"I am indebted and constantly humbled by the constant support of my friends and family.
"I can't thank them enough for the unwavering support they provide. Their support has been crucial in enabling me to train and race."
Crumpton has had even more struggles to overcome as she tries to win her second Auckland Marathon title after winning in 2010 in 2:45:49 to set a course record.
"I'm hoping for a top-three place this year in the marathon," she says.
"I had surgery 11 months ago to remove extra bone from my heel and tidy up my Achilles, which was frayed. My rehabilitation has taken a lot longer than I anticipated so I can't say my build-up has been ideal, I'd like to have run some faster times over shorter distances leading into the race."
Her running quality is not surprising when you hear about her family's love for the sport.
"My Dad was a runner and represented Scotland in crosscountry and track races.
"My Mum is 72 and she still runs.
"She didn't start running until she was in her 30s.
"She holds the New Zealand records for 800m up to 10000m.
"I started running when I was 14 but didn't really train at all.
"I first competed for New Zealand at the World Mountain Champs in 1996.
"I always had two days off a week and recall being amazed that some of our team were training every day and sometimes twice a day."
Whatever happens tomorrow it will be another step towards remembering the happier times and not just the suffering and pain.