Record-holder Warrander's absence leaves title wide open.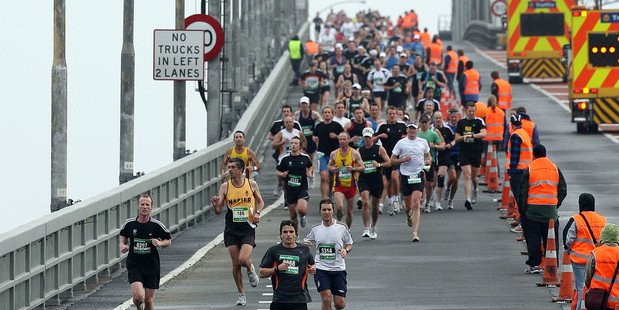 Australian Rowan Walker, who is making his debut in the Auckland Marathon tomorrow, is surprised to be considered the favourite for the signature race.
Four-time champion and race record-holder Dale Warrander out of the adidas-sponsored event because of injury, so the title is wide open for a new champion to step up.
The 42-year-old, who is a public servant with Victoria Police, arrives in Auckland on the back of good form.
He recently completed a 100km trail race and recovered well to run 67:22 for fourth at the Melbourne Marathon Festival Half Marathon.
He was also first Australian at the Gold Coast Marathon in 2:21:17.
The Aussie loves the competition and camaraderie this side of the ditch.
"I made a trip over to New Zealand back in 2004 with an Australian Defence Force team and we did a few runs, including a fantastic relay in the Nelson area," Walker says.
"I loved the race atmosphere and the attitude of the athletes."
He says that "favouritism" doesn't mean anything on the day as running is an individual sport that all comes down to achieving a personal goal.
"There is not really any pressure on me. With a marathon you just have to go into it looking to get the best out of yourself and watch your pacing.
"It is never about beating the competition so much as running your best on the day."
He will face competition from two of the leading New Zealand challengers in 2003 champion Scott Winton, who is a late entrant in the 42.2km race, and Christchurch's Dave Ridley, who is stepping up for his first marathon.
Walker is looking forward to the battle and loves the challenge of a new event. He is even more excited about the celebration of completing another marathon.
"I'm really looking forward to visiting Auckland again and the race in particular, well, actually I think I'm looking forward to a nice meal and a few drinks post-event as this is my last serious race for the year.
"By the looks of it there are a few nice waterfront restaurants that should fit that bill nicely."
When you hear the hard work that the Aussie has put in you can understand why he is hanging out for the finishing line.
"I vary the training in accordance with racing schedules but I run every day with a few days a week where I run twice. Generally I'm doing between 120 and 160 km per week, which is a bit less than a few years ago."
That is a phenomenal workload for a fulltime policeman. Walker, who considers himself a "weekend warrior", loves the challenge a marathon presents.
"It is a true test of training and commitment over a long time. The race itself is a tough but achievable challenge that asks you to dig deep when the energy levels run low and the fatigue hits."
Auckland runner Winton, who won the half marathon in 2006, shares that same passion for the run and has some special memories of his success in the City of Sails.
"I am aiming for as high a place as possible," the 38-year-old says.
"I'm not worried about going for a certain time, I just want to race well and enjoy the day. I've got some great memories of the full and half marathon so this is an opportunity to add to those."
Winton is having a frustrating season. He raced the Ottawa Marathon earlier in the year, which didn't go quite to plan, and since then hasn't raced a lot before he got back into it at the Hamilton Half Marathon.
"I've been out to Muriwai and Ambury Park for some long runs, which have gone quite well, I am looking forward to it."
Meanwhile Cantabrian Ridley is making his debut in the Auckland event.
"It will be my first marathon, so like everyone I'll be aiming to finish," he says. "But hopefully I'll feel strong on the day and can have a crack at a good time and place too.
"Auckland has a great atmosphere and feel to the event so I decided I wanted to do the marathon at the event this year. It's great to see thousands of people all aiming to achieve their goals. In conjunction with the great course this event is one of New Zealand's finest."
The stage is set for a good transtasman battle which, on recent form, Walker is expected to claim. "It would be great to finish with a place and be in the hunt for a win but you never know who else is going to have a good day. I'm certainly excited about coming to Auckland and the opportunity to race a different marathon and I'll race as hard as I can on the day."