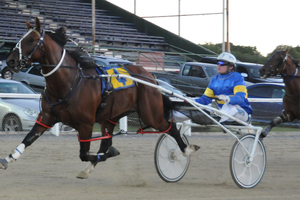 John Dunn will find himself in one of harness racing's hottest seats at Addington tonight.
But he will only be keeping it warm for leading Australian driver Gary Hall junior.
Dunn has landed the prime catch drive on exceptional 3-year-old Alta Christiano in a star-studded Sires' Stakes heat, taking over from Mitchell Kerr, son of trainer Paul Kerr.
The change was instigated by Alta Christiano's Australian-based owners, who bought the colt for huge money over the winter.
They were disappointed when Alta Christiano galloped as a hot favourite in a lower-grade, standingstart race at Forbury Park on Sunday and wanted a more senior driver.
Kerr says his son took the loss of his best drive in his stride.
"Mitch was disappointed but he also always knew that Gary Hall junior would be driving the horse in the bigger races anyway."
He says Sunday's gallop is not a concern going into tonight's final chance to qualify for the Sires' Final.
"It was just an issue with him wearing hopple shorteners because it was his first standing start," said Kerr.
"Obviously, that won't be an issue back to the mobile this week and he is ready to win."
Alta Christiano looked the most talented juvenile in New Zealand last season until bad luck dogged his final two starts and he was scratched from the Harness Jewels, which capped a dreadful autumn.
His defeat on Sunday leaves him with a formline unbefitting his purchase price but Kerr says the colt is ready to reverse that.
"He is ready to win and we will have no excuses.
"He will be heading to the front and staying there."
That throws down the gauntlet to two of the other stars in the race, Franco Nelson and Classiesistar, who have both drawn wide on the front line.
Franco Nelson has looked almost as talented as Alta Christiano during their short careers and was superb at the Australasian Breeders Crown in August but has disappointed at recent trials.
That might be enough to see him driven conservatively tonight in an attempt to simply qualify for the Sires' Final, giving trainer Steven McRae two more weeks to get him back to his best. Either way, it would be unwise to take shorts odds about him.
Classiesistar may not have graced the big time yet like his better-known rivals but his win at Addington last Friday stamped him as the real deal.
He faces a horror draw tonight and again, with the race being his last chance to qualify for the rich Final, he may also be driven to finish as close as he can rather than being sent on any daring mission to destroy Alta Christiano.
Meanwhile, at Alexandra Park tonight, Five Star Anvil stands out as the Pick6 anchor in a small field for the Franklin Cup preview.
He has been just in behind the placegetters in open-class races his past two starts and drops a long way in grade tonight, with the small field negating his 30m handicap.