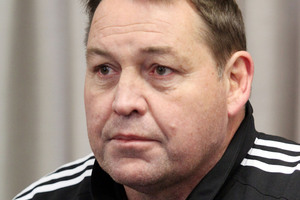 Steve Hansen's off-the-cuff reply to a question about Kiwi Mike Harris playing for Australia has turned the spotlight back on to the supposed pillaging of the Pacific Islands by New Zealand rugby.
Harris, the former North Harbour back who moved to the Reds in Brisbane after failing to break into the Blues' first team, kicked five of Australia's six penalties in the drawn test at Suncorp Stadium and is flourishing in his new environment. The 24-year-old, who qualifies for Australia due to a grandmother who was born there, was playing his first test against his country of birth.
Hansen, asked in the aftermath of the All Blacks' disappointing performance in the city on Saturday whether New Zealand's talent identification protocols were up to scratch given Harris' departure, bristled.
"I am pleased he [Harris] has achieved his dream ... what I find frustrating is that Australia is trying to build their game and put more franchises in place but all they're doing is putting franchises in place and stealing our players," he replied.
Harris and Australia Rugby Union John O'Neill hit back, comparing Australia's "thefts" to those by the New Zealand Rugby Union in the Pacific. Reds coach Ewen McKenzie has also chipped in.
O'Neill, not one to shy away from an argument, told the Sydney Morning Herald: "The comments from the All Blacks' coach are insulting, ill-informed, and clearly made without reviewing New Zealand's history for fielding players born outside their borders.
"I would not even want to guess how many players born in the South Pacific islands have worn the All Blacks' jersey - the reality is there are players who will look for opportunities to play test rugby."
Not surprisingly, perhaps, given his no-nonsense attitude to most things, Hansen is standing firm, and he is right, given the evidence.
Of the more than 1100 players to turn out in the black jersey, 78 were born overseas, according to the respected New Zealand Rugby Museum website. Of those, 13 were born in Samoa, eight in Fiji and seven in Tonga. Two, including Jerome Kaino, were born in American Samoa. The majority of the 30 born in the islands came to New Zealand as children.
Asked on Radio Sport his morning whether the Pacific Islands' argument was a fair one, Hansen replied: "You can't [compare], considering there are more New Zealanders playing for Pacific Islands [teams] than there are players that we're taking out of there.
"At the last World Cup I think the majority of the Samoan team, for example, was born in New Zealand."
Of the 30 players in the Samoa squad for last year's World Cup, 17 were born in New Zealand. The numbers argument, however, is usually lost on people who prefer to view things differently, particularly some from the Northern Hemisphere and now men such as O'Neill.
Hansen added: "The problem I've got at the moment with Australian Rugby is that they are trying to spread their game throughout Australia, which is great because it's the third best sport in the country from their point of view, and in trying to grow their game there they are taking our players from our country to do it.
"I made the comment after being told that 'did we not have our talent identification programme right?'. No, our talent identification programme is good, we know that Mike Harris is a good player but if you guys come over and pinch them then we can't play them.
"What I'm saying is that maybe Ewen McKenzie and his mates should develop their own. That would be good."
- APNZ