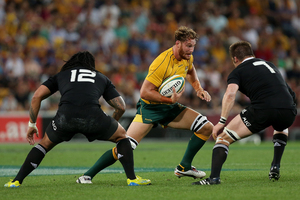 Two weeks. That's the sanction imposed on Wallabies flanker Scott Higginbotham for his attacks on Richie McCaw's head.
Unfortunately for All Blacks captain McCaw and Southern Hemisphere rugby in general, it's a suspension that, more than anything, could encourage more foul play of this nature.
Sanzar had the opportunity to send a message to Higginbotham and his ilk who have taken to targeting McCaw over the past couple of years that this sort of behaviour won't be tolerated. Instead, they've done the opposite.
Cited for both the knee to McCaw's face and a headbutt seconds later during the drawn Bledisloe Cup test in Brisbane on Saturday, Higginbotham was found guilty on both counts by Duty Judicial Officer Jannie Lubbe and suspended for two weeks on both charges - to run concurrently.
Not surprisingly, Higginbotham, who pleaded guilty, agreed to the sanction, which will rule him out of the tests against France and England on the Wallabies' European tour next month.
In his ruling, Lubbe said: "The hitting with the knee was more of a bump than a hit. The headbutt was reckless and not executed with much force. McCaw was not injured and play resumed."
Lubbe, a South African, is also the man who decided Quade Cooper didn't have a case to answer after kneeing McCaw in what appeared a deliberate attempt to provoke him in Brisbane a year ago. Cited a few weeks before the World Cup, Cooper was extremely relieved to be let off.
Lubbe didn't comment on the fact that these "bumps", reckless or otherwise, are becoming extremely frequent as far as McCaw is concerned. For McCaw, the Higginbotham decision adds insult to injury and is the latest in some bizarrely soft and inconsistent judicial rulings by Sanzar, particularly this year.
We were told by Sanzar this season that the use of the head is an "aggravating factor" in these citings - which is why Springboks lock Eben Etzebeth was suspended for two weeks for the hint of a headbutt on Wallabies opposite Nathan Sharpe in Perth last month. Etzebeth made the smallest of contacts with Sharpe.
A week later, McCaw was "cleaned out" by South African prop Dean Greyling in Dunedin, who used his elbow in leaping over a ruck to get at the All Blacks captain. Greyling also received a two-week ban, although he missed only one Rugby Championship match due to the draw.
It prompted Sanzar chief executive Greg Peters to suggest his organisation's judiciary system needed work and would be reviewed.
"We want to get consistency of outcome," Peters said last month. "But I've got to stress that every case is different ...
"Sanzar not having a right of appeal or the national union not having a right of appeal, that's probably one area we'll look at.
"We've got this thing continuously under review. We want the best outcomes. We've got a little bit of work to get there so I think there's a fair acknowledgement of that."
After what All Blacks coach Steve Hansen quite rightly called yet another "cheap shot" on McCaw, that review can't come quickly enough.
- APNZ