'Challenging' city race gets thumbs-up with four-year slot from delighted ITU.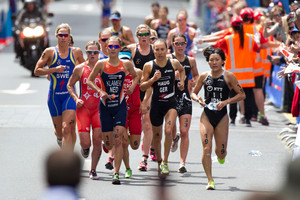 Auckland is fast becoming one of the key cities for triathlon.
On the back of last year's second-tier World Cup event and the grand final of the world series over the last few days, Auckland is now locked in for a leg of the world series for the next four years. Only Hamburg and Stockholm have been accorded similar status by the International Triathlon Union.
"All athletes are really delighted," said ITU president Marisol Casado, of Spain. "Junior, elite and age-groupers have told us this is the truth triathlon, because it is really challenging."
From this year's circuit, Sydney's three-year deal has expired and London has taken its spot, winning hosting rights for the grand final.
Chief of the Auckland organising committee, Dave Beeche, said it was unlikely the layout for the elite courses for the cycling and running legs would change, but there might be some modifications for the junior bike leg.
"It's a somewhat terrifying thought to get up again in six months and do this all over," Beeche quipped. "But the feedback's been outstanding and we'll take all the learning from this and look to build what we hope will be an iconic event in Auckland."
Awarding Auckland first stop on the circuit - which is only for next year at this point - is a logical step, rather than the result of specific lobbying.
Triathlon follows the sun, so Auckland starts off in late summer with Europe occupying the middle and latter slots. It's also good news as the event will have the world's best athletes starting from scratch, as opposed to any decisive, or possibly uncatchable leads having been established, reducing its appeal in head-to-head athletic terms.
"The best time of year to have it here is that early-season spot. In terms of movement of athletes around the world, it's logical they start the season down here," Beeche said.
Athletes who have been crying out for more demanding courses will be pleased.
The Kitzbuhel course in Austria is moving up into the Alps, taking in the Kitzbuheler Horn, and should pose challenges akin to those Auckland provided on the bike leg. Madrid also has sufficient hills to break the pattern of flatter bike and run legs.
Hamburg is a key destination next year, as it will also host the mixed relay world champs less than two months before the ITU hopes to impress the International Olympic Committee sufficiently to get the event included in the 2016 Rio Games.
World Triathlon Series 2013
April 6-7: Auckland
April 20-21: San Diego
May 11-12: Yokohama
June 1-2: Madrid
July 6-7: Kitzbuhel
July 20-21: Hamburg
Aug 24-25: Stockholm
Sept 11-16: Grand Final, London.