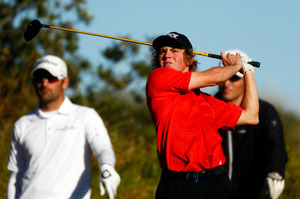 Joshua Munn became the first amateur to win two titles on the Charles Tour after winning the Harewood Open by two strokes in Christchurch today.
The 21-year-old from the Manawatu Golf Club braved the brutally cold conditions to shoot a one under par 71 and edge Russley amateur Owen Burgess.
Munn, who also tasted victory at the 2011 Muriwai Open, is one of only five amateurs to have won on the Charles Tour - and he is now the first multiple winner after a superb week at the Harewood Golf Club.
"It is a real privilege to be the first amateur to win twice on the Charles Tour," Munn said. "I don't think I have ever made history before so words can't express what that means to me. It is an awesome feeling and what I have been working for."
Munn, who carded rounds of 69, 68, 69 and 71 this week, showed once again he is comfortable leading from the front.
"I must have guts. I am pretty strong mentally. I woke up this morning and said to myself, 'you did it at Muriwai, why can't you do it here as well?'
"I am a pretty relaxed sort of guy when I am under the heat. I have a few things that I have been working on with my sports psychologist and it is working."
Munn was slow out of the blocks today in the sleet as he played the front nine in even par. But he eventually managed to make a defining shot on 14th to set up a crucial eagle opportunity.
"I had 250m to the front of the green and I smashed a three wood around the corner to about eight feet and I got up there and rolled in the eagle putt. It was an awesome day."
In the women's field, Wellington No 1 Julianne Alvarez has enjoyed the biggest victory of her young golfing career with a come-from-behind win over Emily Perry.
Alvarez carded a four under par 68 to overcome six-time Charles Tour winner Perry to secure her first national title.
"I am really stoked," the 16-year-old said. "I wasn't expecting it with my placing and with how well Emily was playing. To come out with the win today was really good and is really great for my confidence."
Alvarez, who had rounds of 76, 71, 73 and 68 for an even par total, said the wet and windy conditions this morning was a turning point in her mentality.
"I thought, 'just go out and play and give all your putts a go'. That is what really helped me today. I was hitting for the pins and keeping it simple because that is ultimately what you have to do. Get the ball in the hole."
- APNZ