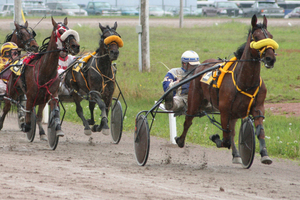 Don't feel too bad if you can't decide between stablemates Stig and Dr Hook in today's Flying Mile at Ashburton.
Because trainer Paul Nairn can't make up his mind which one he favours either.
But one thing looks certain, with champion trotter I Can Doosit missing the feature, Nairn's pair are set to continue his outstanding record in the race.
Stig has already won the Flying Mile twice while Dr Hook won it last season. And Stig is also a Harness Jewels winner over the track and distance.
Dr Hook has the draw in his favour today, from barrier one, whereas Stig may have to work early from barrier six.
But even with that in mind Nairn can't decide between the pair.
"Dr Hook should get the easier run so I suppose it would be easy to say him," said Nairn.
"But I have been really happy with Stig. He actually feels like he is coming back to something like his best and I think he is better this season than he was when he came back last year.
"So maybe Stig, but really, they probably have equal chances."
Stig was a huge second behind I Can Doosit at Addington last week after working mid-race, whereas Dr Hook stuck to his guns well after being forced three wide over the last lap.
Dr Hook should lead or at worse trail on Monday which makes him the more logical bet but Stig may simply be the better trotter, even though he is old and battle-scarred these days.
The race could well be set up by The Fiery Ginga, who has gate speed and loves nothing more than to try and trot his rivals off their hooves.
But if he does that from barrier two then he could have Dr Hook sitting on his back, which is hardly an ideal situation.