Spaniard and Briton share the spoils at triathlon world series grand final.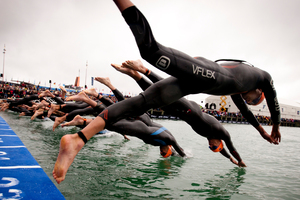 Three visits, three wins: with that sort of record don't expect Javier Gomez to shy away from too many triathlon trips to New Zealand.
The 29-year-old Spaniard ran down Britain's Jonathan Brownlee to win the world series grand final at Queens Wharf yesterday, enabling the two best athletes in the field to share the spoils on offer.
Gomez won the race by a mere two seconds; Brownlee's second was easily enough to win the overall world crown - judged over eight legs - for the first time, emulating older brother Alastair, a two-time champion and the London Olympic gold medallist.
"It's my third time in New Zealand and I always win here," Gomez said, referring to the under-23 world title in 2003 and a World Cup race in New Plymouth four years ago.
"I was feeling good on the run. I felt like I had something left on the last lap.
I waited for my moment and with 100 to 150m to go I thought, 'Okay, let's go with everything as fast as I can,' and yeah, it worked well."
For Gomez, who finished second over the series, to have taken a third overall world title he needed to win and have Brownlee finish fourth, or worse. Gomez would have preferred heat yesterday, the miserable weather was more suited to Brownlee - "He is from Yorkshire," Gomez quipped.
The Gomez plan was never going to happen once Brownlee and Slovakia's noted swimmer Richard Varga streeted the field in the opening swim leg. The pair emerged 36 seconds clear of the field and from then on Brownlee was always on the pace, or at worst, when New Zealand's Kris Gemmell made his valiant charge over the second half of the bike leg, prominent in the chasing bunch.
Gomez got his win in the final strides, clocking 2h 00min 29s, just 2s ahead of Brownlee, after the pair had recorded identical 30min 34s run legs over the 10km. Switzerland's Sven Riederer, who dropped off the pace midway through the run, took third in 2:01.18, with young Aucklander Ryan Sissons the best of the New Zealand contingent, finishing 11th in 2:02.15.
That was a symbolic handing of the baton from old stagers Gemmell and Bevan Docherty, who are moving on to other multisport challenges. Sissons is in the vanguard of the next wave. "I'm ready to take over from them and hopefully push through next season. I've always wanted to race with those two, they're bloody awesome," he said.
For Docherty, two-time Olympic medallist and former world champion, the Barfoot & Thompson-sponsored champs were an emotional finale. "It was a pretty average result [14th] but I could tell everyone was pretty proud of what I've achieved. It was very special; it was worth it," he said of a gruelling event.
But there were no complaints from the two finest competitors in the field, who are keen to return if Auckland, as expected, does get a spot on the world series circuit next year.
Sweden's Lisa Norden overcame a bout of food poisoning to finish second in the women's elite race and clinch the overall world title. The Olympic silver medallist took her chance when series leader Erin Densham had to pull out, battling the effects of a cold.
Andrea Hewitt finished third overall, and, at seventh, was the best of the New Zealanders, one place ahead of Kate McIlroy. Germany's Anne Haug won the race with a terrific performance on the final run leg, ahead of fast-finishing American Gwen Jorgenson and Chile's Barbara Riveros Diaz.
Japan won their first world medal at any level when Fumika Matsumoto won the women's junior crown. Defending champion, Hamilton schoolgirl Mikayla Nielsen, didn't finish and received treatment for hypothermia. Auckland's Maddie Dillon was best of the New Zealanders, in fifth, with Elise Salt eighth.
The week wrap up today with the Paratriathlon and age group events.