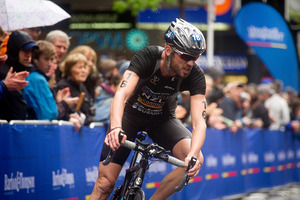 Kris Gemmell was asked a few days ago how he rated his chances in his final event over the classic triathlon discipline yesterday.
" As good a chance as anyone," he replied.
For a time yesterday, as the crowds urged him on as he powered a minute clear on his bike, there seemed just a glimmer of hope that Gemmell, 35 and with his sights on other forms of multisport, would be true to his tip.
You could call it a triumph of the spirit, if lacking the ultimate dream denouement, as the Palmerston North veteran broke away, squelching around the 5km circuit in driving rain; or just a good Kiwi bloke having a real lash for the last time.
On he charged over the last three bike laps, leaving some of triathlon's finest in his wake, and how the crowds loved it.
When Gemmell set off on the 10km run, he had a 58s advantage over the chasing bunch. It was too good to last, as he was hauled in by the leading group well before the first lap ended, finishing 20th.
No matter; Gemmell will walk away a seriously happy man.
"It was an amazing crowd. When I woke up and saw the rubbish weather, I thought no one's going to be here. Everyone's going to be sitting at home with the paper watching on TV," Gemmell said. "But to go up Shortland St when I was away by myself three times - you couldn't emulate that ever, mate."
Gemmell and fellow New Zealand veteran Bevan Docherty, also heading for lengthier challenges, were determined not to die wondering. Docherty did his bit to slow up the pursuing pack, but Olympic medallists Javier Gomez and Jonathan Brownlee are among the world's three best triathletes and they duelled it out in the end.
But Gemmell's charge will live long for those who witnessed it.
Gomez was magnanimous on the New Zealand duo, who were heavily involved in designing a demanding course, which drew high praise from both the Spaniard and Brownlee yesterday.
"Both Kris and Bevan were kind of my heroes when I started," Gomez said. "They were always at the top of the best races when I started. They're always really aggressive when racing, they've won so many important races and they fought hard today to have a good race."
Gemmell was able to reflect on sticking to his plan and "doing exactly what I said I'd wanted to do. It's been a long journey; a good journey though. The sport has given me a lot. I don't want to die in this sport; it's time for me to move aside."
With that he was gone; certainly not forgotten.