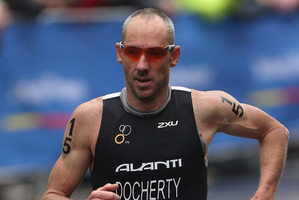 New Zealander's Bevan Docherty and Kris Gemmell celebrated their final ITU race in dramatic conditions in Auckland today.
Ryan Sissons was first Kiwi home at the Barfoot and Thompson ITU world championship series in 11th but the day belonged to the departing veterans, with Docherty eyeing a mix of distances next year, including Ironman, while Gemmell is undecided as to his racing future.
And while neither could match the class of race winner Javier Gomez of Spain and runner up Jonathan Brownlee of Great Britain - who did enough to claim the 2012 World Championship title - the roars of the huge crowds braving the shocking weather conditions were loudest when the popular duo cycled or ran through transition.
Gemmell broke clear with four laps remaining in a fascinating bike leg as the rain pelted down, establishing a lead of close to a minute before heading out on the 10km run. While it was a lead he would hold only briefly as he faded on the run, the 35 year old had no regrets.
"I wanted to attack, I tried to do it from first lap and be aggressive but I couldn't bridge across to Jonny and [Richard] Varga as Javier was too strong, he had to keep the group together to help his race and he was strong at that time. I thought attacking on the hill wasn't best idea as everyone was saving their energy for there so I thought, let's see how big your 'kahuna's' are and have an attack on the downhill with the tight turns."
"I wouldn't change any of it, going up Shortland Street with that crowd; I will never get that again, that is something I can never get again, that was amazing. On the last few laps on the bike when I was out in front, man that was something special. When I woke up this morning and saw the weather I thought the streets would be empty, people would stay home reading the paper on Labour Weekend. But they turned out in huge numbers and made this very special, I wouldn't change anything, I gave it a crack."
Docherty raced more conservatively, in part for his mate up the road, but also to enjoy the day and thank those who braved the weather to watch.
"It was awesome out there today. I have been struggling for motivation in the last month or so, but I knew deep down this would be special and I didn't want to miss out. The weather was average, but the New Zealand public turned out and made it a special event.
"It's been a long season, this was the only opportunity really to make something of the race, so I'm glad Kris got away. I tried to shut the chase group down as much as possible, and while this meant the other group caught up on the last few laps, we had a crack. At the end of the day I just wanted to have fun out there and thank the NZ public for all their support."
Sissons ran through a number of athletes after playing catch up throughout the bike, having missed the lead group out of the water along with fellow Kiwi Clark Ellice.
"That was the run I was hoping to have in London, I knew I had it in me, I just haven't been able to show it that often recently," said Sissons. "I'm just happy today to put a solid result away for the end of the season and that crowd was amazing."
- APNZ