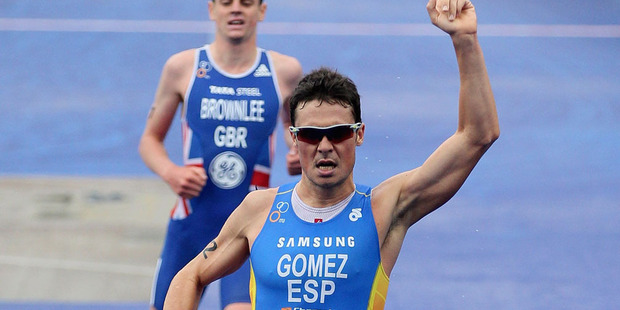 Spain's Javier Gomez has won the Barfoot & Thompson World Triathlon Grand Final in Auckland this afternoon after beating Great Britain's Jonathan Brownlee in a sprint finish.
Gomez, who won silver at this year's London Olympics, finished in a time of 2 hours and 30 seconds in wet conditions.
Despite the second place, Brownlee still takes out the world series title.
Switzerland's Sven Riederer finished third. Ryan Sissons was the top New Zealander in 11th place.
Bevan Docherty finished two minutes and 20 seconds behind Gomez in 14th place while Kris Gemmell, who led at the end of the bike leg, was 20th.
Gemmell was quickly run down and Brownlee and Gomez surged away and ran most of the 10 kilometer running leg shoulder to shoulder. Gomez, who is not known as a sprinter, saved a little energy for the finish and was able to outrun Brownlee in the final sprint.
"I felt strong on the run,'' Gomez said. "I tried to get away a couple of times but Jonathan was so strong today and wouldn't give up.
"But the last bit I felt I had a little something left so I just stayed behind and waited. Most of the time when I'm sprinting with someone I'm dead but this time I wasn't.''
Brownlee gave everything but couldn't quite snatch the grand final victory which would have crowned his world championships.
"It was really tough day,'' he said. "Everyone was really tired after the bike, the bike was hard.
"The first two laps of the run were nice and easy, then Javier attacked and sped up a little bit and it came down to a sprint at the end.
"My tactics were shocking. I let him hide from the wind and he just came past me. But I'm glad the season's over, it's been a long year and I'm tired now.''
Results:
Javier Gomez (ESP) 2:00.31, 1; Jonathan Brownlee (GBR) +2s, 2; Sven Rederer (SUI) +48, 3.
Final world series standings:
Jonathan Brownlee (GBR) 4935 points, 1; Javier Gomez (ESP) 4845, 2; Dmitry Polyanskiy (RUS) 3883, 3.
- nzherald.co.nz/AP
- APNZ